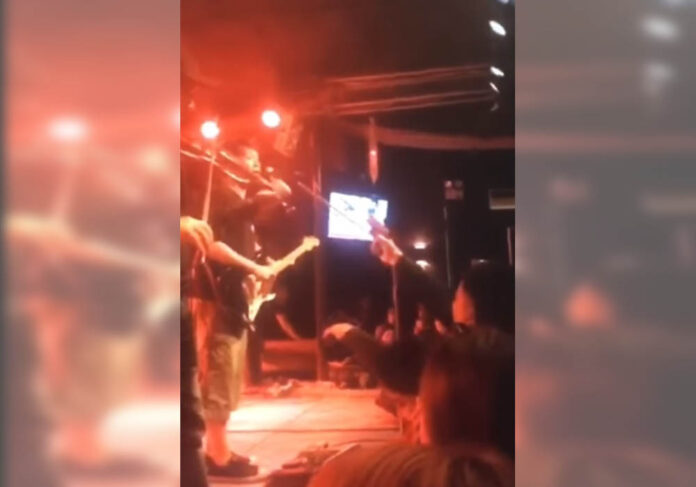 AMNAT CHAROEN — Police said Monday they would not drop legal proceedings against an air force officer who pulled a gun on a rock star as he performed on stage last week.
Air Force Master Sgt. Phoptrai Naksuwan will be tried by the military court, even though the singer accepted his plea for forgiveness and withdrew his own firearms complaint against the air force officer. Phoptrai made headlines last week after he brandished a handgun and pointed it at Pongsit "Pu" Khampee as the musician performed on stage at a nightclub in Amnat Charoen province.
"It is a non-compoundable offense," said Jen Visetrin, the policeman in charge of the investigation. "It means, even if the complaint was withdrawn, prosecution will continue."
Read: Rock Legend Tackles Gun-Wielding Soldier From Stage (Video)
Phoptrai was arrested July 2 shortly after he drew a handgun and pointed at Pongsit, who was performing on stage at the time. Phoptrai later said he pulled the gun to get the singer's attention after Pongsit declined to shake his hand.
"I held up the gun because I was drunk," Phoptrai said. "I didn't intend to harm or threaten him."
The soldier was charged with carrying a gun without a permit and intimidating others.
Phoptrai also begged the singer to withdraw the charges against him because he has a family to support. In response, Pongsit published a handwritten letter in which he said he forgave the soldier, but called on authorities to be more serious in cracking down on illegal possession of firearms.
Capt. Jen said Pongsit later sent a lawyer to formally withdraw his complaint as requested by Phoptrai, but that prosecution would continue nonetheless.
Phoptrai will be tried by a military tribunal at the 22nd Army Circle in Ubon Ratchathani province, Jen added.
Police and soldiers routinely carry firearms – even while off-duty. Gunfights involving armed law enforcement officers are recurring problems. In June 2016, a gunfight between police officers at a nightclub in Phuket left one dead. Three months later, off-duty cops shot two people dead at a bar on Koh Samui.