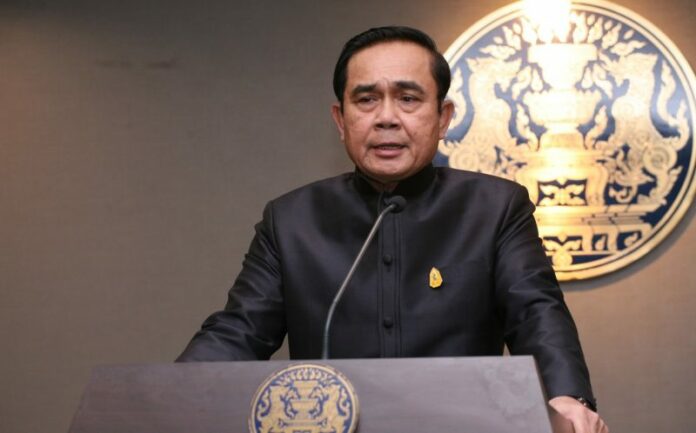 AMNAT CHAROEN — Thailand's past problems are due to the leaders its people chose, junta leader Prime Minister Prayuth Chan-ocha said Monday during a visit to the rural northeast.
Prayuth, who is touring Amnat Charoen province, said the government can't be blamed for the nation's problems as people are responsible for choosing who comes to power. He said this extends to the election of national and local leaders, adding that people shouldn't just think about democracy or politics but choosing responsible leaders and eradicating corruption.
"The closer to elections, the more I have to visit local areas to explain things to people. When a new administration is in place after the next election, it must be a government that can visit any place. Especially if there are people who hate it, it must go out and seek them," Prayuth said, adding that It was okay if there were people who hate him, and that every soldier loves local people.
In reaction to the junta leader's comments, pro-democracy activist Rangsiman Rome said Prayuth says one thing and does another.
"So saying he is not campaigning means he is campaigning. Attempts to continue Prayuth's power post-elections have already begun," Rangsiman said.
Prayuth also called for unity, saying people had to come together and embrace their Thai identities.
"There are good and bad people in every place, but we can't divide into factions now because we all have the same color. This month everyone is yellow and united by the heart in being Thai," Prayuth said, referring to the color of King Vajiralongkorn, who turns 66 on Saturday.
Prayuth made the remarks in the northeastern province before departing for Ubon Ratchathani, another Redshirt stronghold in a region that for nearly two decades has tilted toward the political faction he has sought to uproot. He will host a cabinet meeting there Tuesday afternoon.
Some academics at Ubon Ratchathani University complained that they were visited by soldiers and police and asked to ensure no protests against Prayuth break out tomorrow.
The junta leader also defended his travels upcountry, which opponents criticize as a means to win voters and poach local politicians for promised general elections slated for February while a ban on politicking remains in effect for everyone else.
Prayuth said he's not traveling to campaign or bring pork to any particular region, as all parts of Thailand have allocated budgets.