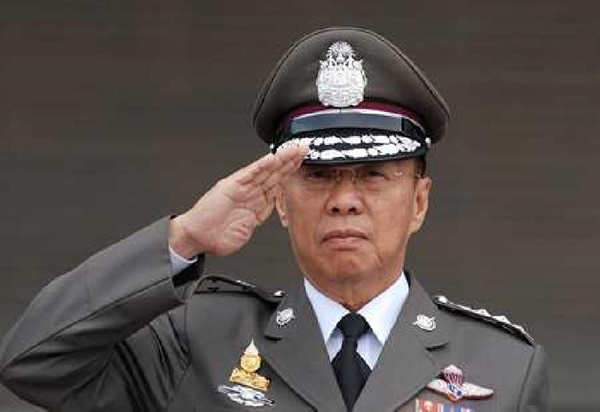 BANGKOK — An investigative journalist was arrested Wednesday night while looking to alleged graft linked to the brother of a top junta leader.
Nattaporn Weeranun of Isra News was detained and charged with trespassing after he visited a building said to house the offices of a company owned by former police commissioner Patcharawat Wongsuwan. Nattaporn's boss said he did nothing wrong.
"The door was open, and he identified himself as a reporter. He clearly said he was there for an interview," Isra News director Prasong Lertrattanasut said by phone. "It was not an trespassing."
Read: Khaosod English Reporter Charged With Sedition, Computer Crimes
Isra News is well known for its investigative reports into financial irregularities involving high-ranking government officials.
Patcharawat is the brother of deputy junta chairman Prawit Wongsuwan. Patcharawat was acquitted just last week of malfeasance involving a bloody 2008 crackdown on anti-government protests.
Gen. Prawit told reporters Thursday he was unaware of the arrest.
A statement published by Isra said Nattaporn was probing allegations that Patcharawat illegally owned a horse breeding business worth millions of baht when he served as police chief in 2009. The national anti-graft agency announced last week it would look into the claim.
The Isra statement said an investigation found that Patachawat co-owned a construction company registered at an apartment building in northern Bangkok. After calls to the company went unanswered for several days, Nattaporn visited the listed address Wednesday evening.
Someone in the building's reception area reportedly told Nattaporn to wait, and police soon arrived to take the reporter to Phaholyothin Police Station. Station chief Yanyong Santipreechawat would not give details about the case other than confirming Nattaporn was charged with trespassing.
Nattaporn was later released on a 15,000 baht bond. No court date has been set.
Prasong said it was the first time a reporter from his news agency was arrested on the job.
Press freedom and other civil rights have taken a downturn since the military seized power in 2014, according to multiple observers and agencies.
Legal action against the media has spiked in recent weeks. On Tuesday, a Khaosod English staff writer was formally charged with sedition and violating the Computer Crime Act over Facebook posts critical of the junta-sponsored constitution. Reporter Pravit Rojanaphruk faces further charges for recent posts critical of junta leader Prayuth Chan-ocha. Pravit has denied the charges, saying they amount to harassment.
Just yesterday, government media regulators ordered Peace TV, a news agency aligned with the former civilian government, to shut down for 30 days. The station is known for frequent criticism of the military regime.
Related stories:
Prayuth Named 'Press Freedom Predator' – Again
Govt Deplores Foreign Media Coverage, BBC Coverage Blocked
Junta Grants Authorities Legal Immunity to Regulate Media
Media Groups Criticize Shutdown of Voice TV in Rare Show of Solidarity