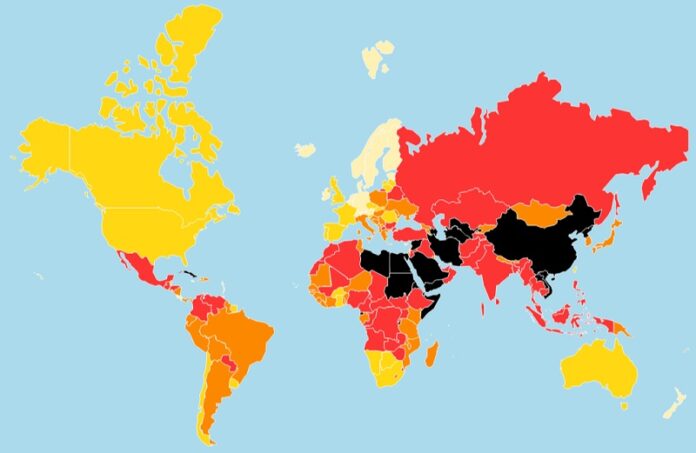 BANGKOK — Thailand has plunged deeper when it comes to press freedom this past year, a report published Wednesday said.
Paris-based organization Reporters Without Borders, or RSF, ranked Thailand 142nd out of 180 countries around the world in the 2017 World Press Freedom Index, a fall of six places since last year.
The authors attributed this to the military junta's role in keeping permanent surveillance on journalists and detaining some arbitrarily. Junta spokesman Col. Winthai Suvari was not available for comment on the ranking as of press time Thursday.
Thailand fell from 136th to 142nd position, with next year potentially seeing a further drop if the proposed media-reform bill – which includes a criminal penalty of three years of imprisonment and a 60,000 baht fine – receives hands of support from the junta-appointed National Legislative Assembly. The assembly is believed to deliberate on the matter as soon as early next month.
"Thailand is ruled by a military junta called the National Council for Peace and Order. Ubiquitous, all-powerful, and led by press freedom predator Prime Minister [Gen.] Prayuth Chan-ocha, the council keeps journalists and citizen journalists under permanent surveillance, often summons them for questioning, and detains them arbitrarily," RSF stated in English on its website.
"Any criticism of the junta is liable to lead to violent reprisals made possible by draconian legislation and a justice system that follows orders," it said referring to the Computer Crime Act, assuring it was reinforced in 2016 and gave authorities more control over censorship.
RSF said that the passing of His Majesty the Late King Bhumibol's passing had not curtailed the use of lese majeste charges, qualifying Article 112 as a "weapon of mass deterrence for journalists, bloggers, and online activists."
Countries ranking higher than Thailand include Sri Lanka at 141, India at 136 and Pakistan at 139.
Thailand performed better than South Sudan at 145 and Russia at 148, however.
Out of 180 countries, Norway was ranked as having the most free press in the world at number 1, followed by Sweden and Finland, respectively. France stood at 39 followed by the United Kingdom at 40 and the United States at 43. In Asia, South Korea ranked highest at number 63. Japan was ranked at 72 while China was placed at 176.
At ASEAN level however, Thailand continues to rank above most of its neighbors. Malaysia is two ranks behind at 144. Laos stands at number 170 and Vietnam at 175. Brunei is at 156, a few ranks behind Singapore at 151. Indonesia, the Philippines and Myanmar scored higher than Thailand at 124, 127 and 131 respectively.