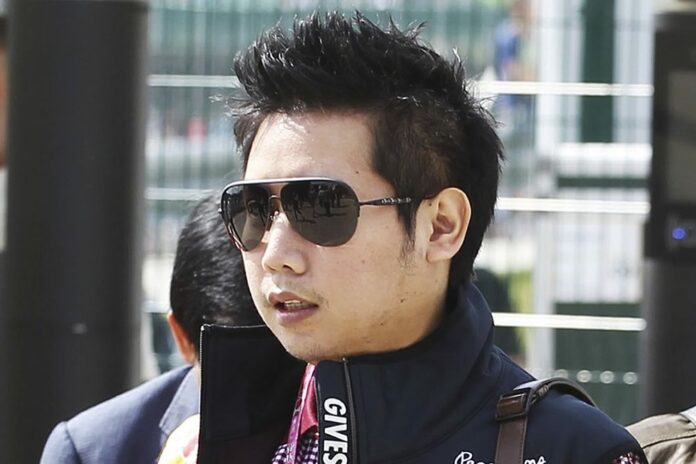 BANGKOK — After more than four years of inaction, authorities on Thursday said they would seek an arrest warrant and an extradition order for a wealthy businessman accused of a hit-and-run that killed a policeman in 2012.
The latest deadline for Vorayuth "Boss" Yoovidhya to appear before the prosecutors expired Thursday without sign of the 32-year-old grandson of the man who started the Red Bull energy drink empire. He has repeatedly disregarded nearly all summonses since he crashed his Ferrari into a policeman's motorcycle in Bangkok's nightlife area in September 2012.
"Just before this news conference, I checked with the South Bangkok Court whether the suspect has reported himself there," Somnuek Siangkong, a spokesman for the Office of Attorney-General, told reporters. "The court informed me that he has not showed up."
Read: Okay For Red Bull 'Boss' Not to Appear, Prosecutors Say
"The next step is, we will issue a letter to Thonglor Police Station, asking them to apply for an arrest warrant with the court. We will begin this process tomorrow," he added.
Once the warrant is issued, the next step is extradition, said Amnat Chotchai, director of the prosecutor's foreign affairs office. Amnat said media reports indicated that Vorayuth is residing in the United Kingdom, which has maintained an extradition treaty with Thailand since 1912, but the prosecutors must still confirm whether that is his current residence.
No matter how poor or rich people are, we facilitate justice for them all
He said Vorayuth does not meet any special condition in the Thai – UK treaty that would disqualify efforts to send him back to Thailand.
"We have worked with the Home Office in many cases," Amnat said.
For killing Sgt. Maj. Wichian Klanprasert and fleeing the crime scene in 2012, the businessman is charged with fatal reckless driving, hit-and-run, speeding and property damage. The two latter charges have already expired, while hit-and-run is due to expire in September. The statute of limitations for the most serious charge – fatal reckless driving – is valid until 2027.
The last time Vorayuth was ordered to appear before the Office of Attorney-General was on March 30. That summons, like others, was ignored and no arrest warrant has ever been issued for the Red Bull heir.
Interest in the case was reignited after a report by The Associated Press showed Vorayuth to be openly living a jet-setting life and traveling in and out of Thailand without repercussion.
The prosecutors previously insisted Vorayuth has the right to delay his previous summonses because he filed a complaint of unfair treatment, which halted all prosecution efforts against him until they are thoroughly investigated. Those complaints were ruled to be groundless last month by the Office of Attorney-General, a spokesman said.
Few will be surprised by Vorayuth's refusal to appear today. Due to the reluctance of the authorities to prosecute the Red Bull heir, Vorayuth's name has become the epitome of frozen justice when it involves Thailand's well-connected and the wealthy.
Those attending Thursday's news conference include former politician Chuwit Kamolvisit who criticized the prosecutors for their failure in bringing Vorayuth to court. He also asked the Office of the Attorney-General what they propose to fix "this failure of justice system" in the future.
Spokesman Somnuek defended the prosecutors' inaction on the grounds that they had to wait until complaints of unfair treatment were resolved.
"No matter how poor or rich people are, we facilitate justice for them all," Somnuek said.
Related stories:
Cops Say No Cause to Arrest Red Bull Heir Living Openly in Bangkok
In UK, Red Bull 'Boss' Silent About Thai Crash Case