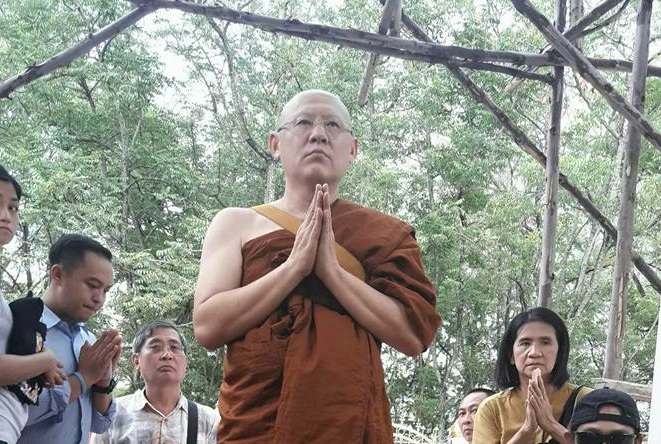 NAKHON RATCHASIMA — Buddhist officials are reportedly investigating whether a temple in the northeast violated any regulation when it agreed to ordain a celeb anchorman convicted of fraud as a monk earlier this week.
The news prompted several prominent monks to defend Sorayuth Suthassanachinda, who was found guilty in November of embezzling millions from the state in advertising revenue, on grounds that the former TV host has been released on bail while he contests the ruling and therefore did not violate Buddha's ban on ordaining fugitives from justice.
"In Buddhist teachings, the ban is on people who run from criminal cases," Phra Mahapaivan Warawanno, who maintains a large social media following, said in an interview. "In the time of Lord Buddha, there was no such thing like bail release. In the modern state, suspects who have not yet been convicted by the Supreme Court should have the rights to be ordained."
Sorayuth was ordained at a temple in Nakhon Ratchasima on Monday. The 51-year-old said he intended to become a monk for a week to make merit for his mother.
Several media agencies reported on the following day that the state's ecclesiastical regulator, the Office of National Buddhism, is mulling on taking action against the temple for flouting Buddha's ban on ordination of criminals on the run.
Top Buddhism regulator Pongporn Pramsaneh declined to comment on the news.
Phra Phayom Kalayano, a monk well known for his lively sermons on TV, told reporters Wednesday he believed Sorayuth has the rights to monkhood. Other criminal defendants have been ordained in the past, he said, citing politician-turned-activist Suthep Thaugsuban as an example.
A firebrand activist monk who campaigned alongside Suthep against the former government also spoke in support of Sorayuth. Phra Buddha Issara told reporters today the former Channel 3 anchorman should be allowed to make merit for his mother.
Sorayuth was initially found guilty by a lower court in 2016 on charges of fraud and embezzlement. Prosecutors say Sorayuth and his team pocketed more than 138 million baht in advertising revenues that belonged to state television.
An appeals court affirmed the ruling in November and rejected his bail release. After spending nearly two weeks in prison, Sorayuth was freed on bail while he contests the case in the supreme court.