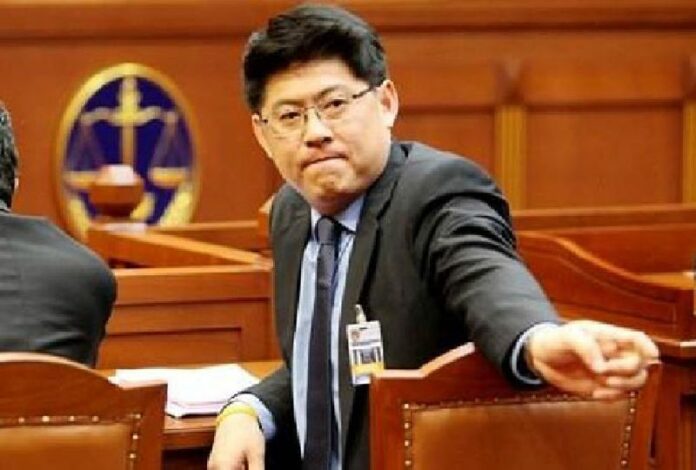 BANGKOK — One of the nation's most recognizable television personalities today was sentenced to 13 years in prison for cheating a state-owned channel of more than 138 million baht in advertisement revenue a decade ago.
The Criminal Court convicted TV news host Sorayuth Suthassanachinda, whose daily news talk show is watched by millions, of embezzling 138 million baht by selling more commercial airtime than allowed over a 14-month period and bribing another employee to hide it.
Sorayuth was present in court Monday for sentencing, with three other members of his media advertising firm receiving the same jail term. Sorayuth is seeking bail that if granted would keep him free while his case is appealed.
In 2005 and 2006, Sorayuth's company Rai Som hid the extra revenues by paying MCOT employee Pichapa Iamsa-ard more than 600,000 baht to conceal it, according to the prosecutor. Pichapa remains on the run and was sentenced to 20 years in absentia.
The court declined to suspend their sentences, a legal mechanism which often sees high-profile figures convicted without serving any jail time. Sorayuth this afternoon was granted bail on a 1 million baht bond under the condition he cannot leave the country and must report to the court every 30 days.
The scandal dates back to February 2005 when prosecutors said Sorayuth began to run ads on his daily popular news show Khui Kui Khao (Talking and Digging Into the News) which exceeded the allotment given by Channel 9, which is state enterprise MCOT's flagship channel.
Prosecutors convinced the court this fraud continued until April 2006. The case came to light when officials at Channel 9 determined that Sorayuth owed the state enterprise more than 138 million baht in lost revenue plus interest of 14 million baht.
Investigators also reportedly found that Sorayuth paid Pichapa, who was in charge of ad revenues, about 700,000 baht to hide the overage.
Sorayuth's firm Rai Som eventually paid 152 million baht in compensation to the channel, but that didn't get investigators to drop the case.
Sorayuth declined to answer reporters' questions when he arrived at the court Monday morning.
A former journalist, Sorayuth shot to national fame in 2005 when he started Khui Kui Khao. On the show, he went over the top news of the day in a more casual, human format that gave his national audience more clarity.
The show's popularity was cemented during Yellowshirt protests against then-Prime Minister Thaksin Shinawatra; Sorayuth regularly interviewed political leaders from both sides and extensively covered the unfolding crisis.
Since 2007, Sorayuth has worked exclusively for Channel 3, running several prime-time news shows, such as Reung Den Yen Nee (Top Story This Evening).
Sorayuth's popularity is so immense that the phrase "this story is going on Sorayuth's show," is frequently used on social media to describe potentially controversial issues.
Correction: An earlier version of this story mistakenly reported Pichapa was bribed with more than 600 million baht, in fact it was more than 600,000 baht. 
Update: Story updated to with information that bail was granted.
Teeranai Charuvastra can be reached at [email protected] and @Teeranai_C.
Follow Khaosod English on Facebook and Twitter for news, politics and more from Thailand. To reach Khaosod English about this article or another matter, please contact us by e-mail at [email protected].