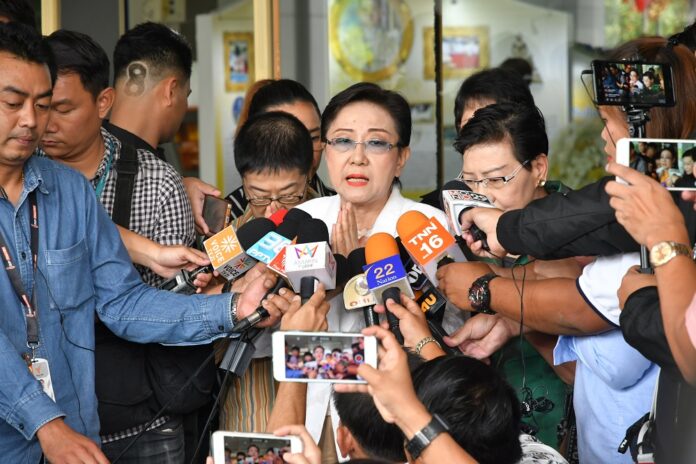 BANGKOK — City Hall must demolish five illegal markets built around a residence in eastern Bangkok and pay compensation to the family living there, a court ruled Wednesday.
Plaintiff Boonsri Saengyoktrakarn, whose grievances about the markets and ceaseless illegal parking has won over many on social media, reacted with joy to the verdict, saying it vindicated her family's struggle.
"It's worth it. We have given so much effort in reclaiming our legitimate rights," Boonsri told reporters moments after the ruling was read.
In its verdict, the administrative court found the Bangkok Metropolitan Administration, or BMA, guilty of negligence for failing to close down the unlicensed markets as demanded by Boonsri and her family. It also ordered Bangkok Gov. Aswin Kwanmuang to pay 360,000 baht compensation to the Saengyoktrakarns, to accrue at an annual interest of 7.5 percent.
Aswin told reporters he would proceed with the demolition but balked at paying damages to the family, saying it wasn't his fault.
"I agree with the demolition of markets, but I will consult with my legal team to appeal the point about forcing the Bangkok governor – which is me – to pay the compensation," Aswin said.
The marketplaces operated without any permit for over 20 years, and the issue only came to attention when Boonsri and her siblings attacked a pickup truck left blocking their driveway with an axe and pipe.
The footage, and social media sympathy for the women who became nicknamed "aunties," forced the authorities to close down the markets in February.
Boonsri said a criminal case against her for damaging the shopper's truck is still ongoing.