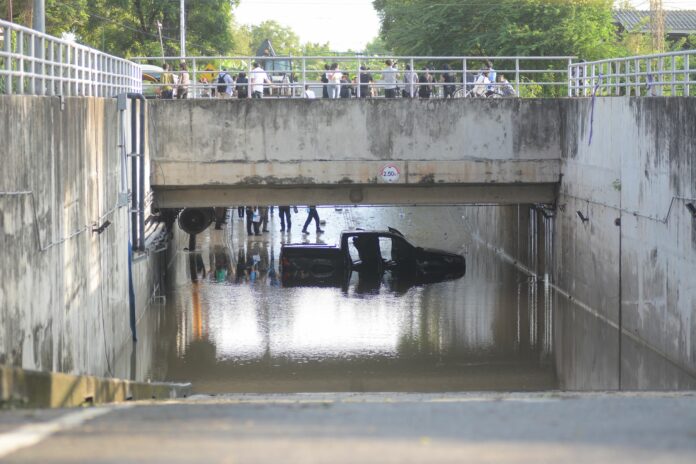 BANGKOK — Police vowed justice for a woman who drowned in a Bangkok underpass last week despite not being sure what caused it – or who to hold accountable.
Broken pumps, cracked pipes, hidden springs, construction standards and more have all been considered as investigators seek to explain the death of 41-year-old Phanumas Sae-tae last week in Bangkok's Prawet district after she got stuck attempting to drive through.
After meeting Tuesday, officials said that despite weighing a variety of possible causes, including damage to the underpass and an underground spring discovered nearby, they've yet to determine what triggered the flash flood.
Deputy Gov. Chakkapan Phiewngam said Monday that construction of the underpass was funded by Golden Nakara, a housing development on land owned by the state railway. The underpass sits just inside the gated community, and residents use it to pass under tracks to reach their homes.
He said that although City Hall is not responsible for the privately built underpass, he ordered all district chiefs to inspect the safety standards of those in their areas as a precaution.
It was around midnight when Phanumas drove her pickup truck into the underpass. Police assume she was confident her vehicle could ford the meter-deep water, but its engine cut out just as the water level shot up, submerging the truck and drowning her.
A friend she placed an emergency call to that night told police Phanumas could not swim.
The underpass, said to be built 12 years ago, is about 100 meters long and four meters deep.
Prawet district chief Thanasit Metpanmuang said an underground spring was found near the underpass, which was still flooded Monday afternoon despite continuous pumping. The roadway will remain shut until the authorities determine the cause and fix it.
Blueprints provided by Italian-Thai Development, a major national construction firm, were being studied today. The investigation is set to resume tomorrow once the water has been drained.
Deputy Bangkok police chief Maj. Gen. Sompong Chingduang vowed to prosecute whoever was responsible for a tragedy that "shouldn't have happened." He said the responsible party could be charged with fatal negligence.
According to Sompong, preliminary investigation suggests a drainage pipe connecting the underpass to the sewage system cracked and failed. Changes in its pressure might have caused murky water meant for release in a nearby canal to reverse back into the underpass.
He said further investigation is needed to see if the fractures were due to faulty construction or other factors, such as the trains which run over it. Suspicions have also fallen on nearby construction of the Airport Rail Link line.
Originally thought to be caused by storms that night, the flooding was not due to rainfall. Thanasit said only 16.4 millimeters fell Wednesday. He also said the housing complex's water pump was broken and had to be turned off, but it was unclear if that contributed to flooding.
Phanumas' death under circumstances familiar to many has prompted discussion about what to do if one becomes trapped in a similar fashion.
The underpass where Phanumas drowned can be seen just through a gate leading into the Golden Nakara housing development.