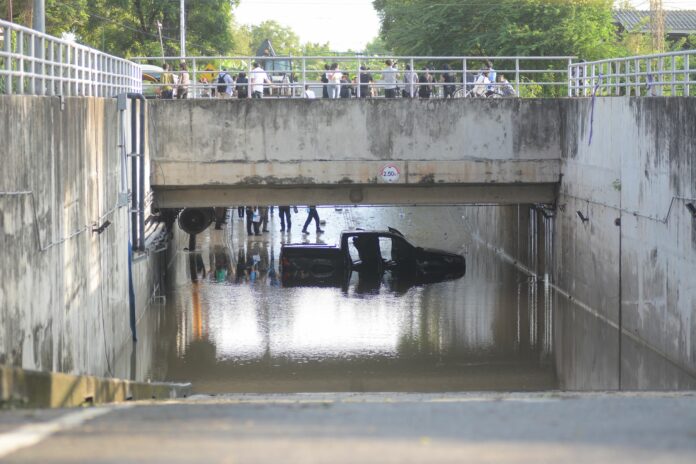 BANGKOK — Five people were charged over the death of a woman who drowned in a flooded Bangkok underpass, police said Sunday.
A deputy metro police chief said charges related to fatal negligence were filed against three security guards, including the president and a manager of Golden Nakara, a housing development in Prawet district which owns the underpass where 41-year-old Phanumas Sae-tae drowned last month.
"The accident happened due to negligence from the [housing developer]," Maj. Gen. Sompong Chingduang said. "It was their responsibility to maintain the underpass but they neglected their duty until there was a casualty."
He added that the three security guards were also responsible because they failed to put up a warning sign or close the underpass, as it had been known to be flooded for a while before tragedy struck.
Sompong declined to reveal the name of the five people charged, saying it would violate their rights.
Phanumas drove her truck into the flooded underpass in the early hours of Sep. 6 and became trapped in the vehicle.
It had been reported earlier that the underpass – built by the major construction firm Italian-Thai – was partly flooded and that water only rapidly shot up after she got stuck, but Col. Alongkorn Sirisongkhram said yesterday that the roadway was already fully flooded at the time.
"The water submerged her truck completely when she drove in," he said, adding that it was very dark around the area. "She could not open the door because of the water pressure. … She also panicked because she could not swim."
Suchatchavee Suwansawas, an engineering expert assigned to the investigation, said he suspects the draining system of the underpass failed at the time due to poor maintenance.
He said sand, soil and mud were found in the sewage system, which could have blocked the water before it reached the pump, making it flow back into the underpass.
There were also fissures on an underground drainage pipe, which might have caused soil and mud to leak into the sewage, Suchatchavee said.
He added that such problems could be prevented if the equipment inspection was performed at least once a week, especially in the monsoon season – during which it should be done everyday to ensure pipes aren't clogged.
Related stories:
Construction Firm, Developer Face Charges in Bangkok Underpass Drowning