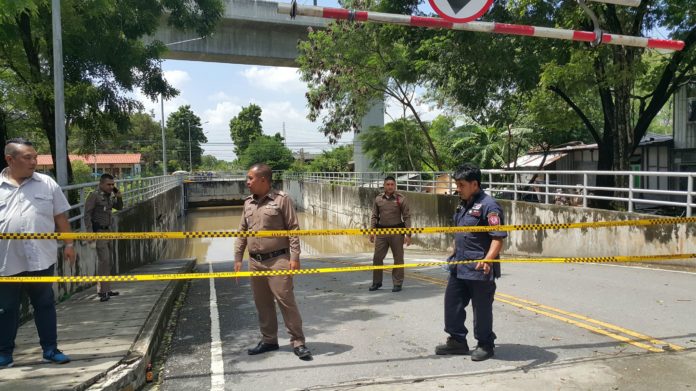 BANGKOK — An investigation into the drowning death of a woman in a Bangkok underpass continued Tuesday as police move closer to filing charges against those responsible.
Investigators have struggled to pin down what flooded the underpass where Phanumas Sae-tae got stuck earlier this month, but a deputy metro police chief says a broken drainage pipe might be to blame, which could see legal action against its builder and maintenance teams.
Read: Cops Stumped by Bangkok Underpass Drowning
Maj. Gen. Sompong Chingduang said a final conclusion could be made after Italian-Thai Development provides blueprints for the underpass, which was built in 2005. Last week, district chief Thanasit Metpanmuang said some blueprints were already being studied.
Sompong said City Hall officials discovered the leak came from beneath the road.
Today, police and engineering experts were to inspect the underpass together, Sompong said. He expects preliminary results next week.
The underpass, owned by the Golden Nakara housing development, is built on state railway land. It rapidly filled with water late at night on Sep. 5, trapping 41-year-old Phanumas in her truck. Police suspect she thought the truck could make it through the 100-meter roadway, which was partially flooded at the time.
It was not known to have flooded previously.
Sompong said fatal negligence charges are being weighed against those responsible for maintaining the underpass if they failed to properly operate its water pump or put up flood warnings if it had broken.
Italian-Thai, the construction firm, also faces charges if investigators find faulty construction led to fractures in the pipe, which caused water to flow into the underpass faster than it could be emptied by the pump, Sompong added.