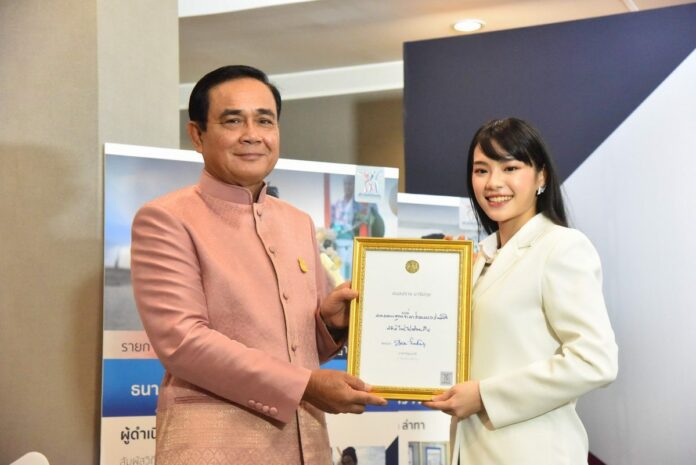 BANGKOK — A new gig on behalf of the military regime has drawn accusations that a girl group and pop-culture juggernaut is in bed with tyranny.
Growing rancor over a BNK48 member hosting one of the military government's TV shows prompted the junta leader and his No. 2 to speak out in defense of its lead performer, who has become an object of scorn to some opposed to military rule.
"Bad people" were the words Gen. Prayuth Chan-ocha used Tuesday to describe critics of BNK48 frontwoman Cherprang Areekul.
"I feel so sorry for her. How is it bad that she's helping the nation? … Don't give up against bad people, people without virtue and morals, " Prayuth said. "Sometimes, I talk and people don't listen. They're bored of my face, or I speak too harshly. So I'm getting girls to talk instead."
Last week it was announced that Cherprang would host an episode of government show "Walk Forward Together Thailand," or "Dern Naa Prathet Thai," a vehicle promoting its policies and personalities.
A number of pro-democracy responded online by criticizing her for "collaborating" with those who've been in power since leading the 2014 coup.
Pro-democracy activist Rangsiman Rome Friday disparaged Cherprang for what he said was conscious collaboration.
"It is not too much to hope that Cherprang does not associate with dictatorship," Rangsiman wrote. "Cherprang knows for sure that what she is doing is boosting the dictatorship's image."
Her episode promoting government education policy will air Saturday. The episode joins other complaints about all the promotional messaging being done by the government at a time when civilian politicians face jail time for campaigning or even meeting.
Deputy junta leader and defense minister, Gen. Prawit Wongsuwan, Monday called out Rangsiman, despite saying he did not have time to listen to BNK48's music because he is too busy answering reporters' questions.
"How can he limit her rights? She can do what she wants, it's her right." Prawit said Monday, smiling. "Rome can limit others' rights?"
While Cherprang has drawn fire from the pro-democracy camp for appearing on government TV, other A-list celebs have faced less ire for doing the same, incliuding Nittha "Mew" Jirayungyurn and Nadech Kugimiya. Nadech's appearance last month, in which discussed the dangers of loan sharks in the Isaan dialect, was watched by 5.5 million viewers, while Mew's discussion of tourism drew 6 million two weeks later.
"Not only do Thai stars not have a political stance, never acting as a voice for the citizens, … stars like Film Thanaphad, Mew Nittha, Bee Namthip and especially Cherprang BNK are cozying up to the dictators, saying that they're 'so honored,' how much they want to improve the nation and how happy they are," wrote Karn Pongpraphapan, an activist peer of Rangsiman's who spares no spice in his social media roasts. "Dicks! Dumbasses!"
Exiled academic and government critic Pavin Chachavalpongpun even weighed in.
"I see people saying Cherprang is getting bullied online…but collaborating with dictators is bullying citizens," he said.
Naturally, this drew some clapbacks.
"Some people are so educated but are worthless, unable to differentiate anything, using their professor position to bark in front of their screens," Thai Post's Plew Seengeun wrote in a column. "All 29 members of BNK48 have such pure hearts. You feces-hearted professor, if you don't support them, just leave them alone!"
Of course, not everyone agreed that appearing on a government show is tantamount to treason against democratic principles. Especially, as some have pointed out, when someone is a young star who may have little option to say no without damaging their career.
Sarinee Achavanuntakul, an independent writer and journalist who won praise for declining to do work for the junta, said her situation couldn't be compared to that of Cherprang.
"All members of BNK48 have contracts with their company and cannot choose what jobs they take on. None of their jobs they accept or refuse are personal choices," she wrote. "Hiring idols to act as a loudspeaker for the government is nothing new."