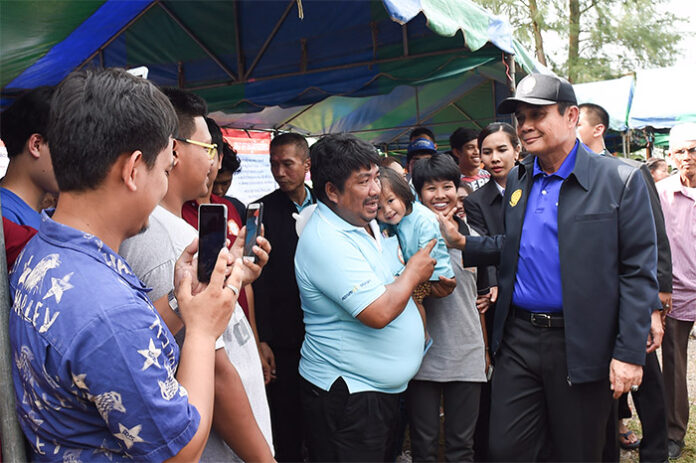 CHUMPHON — Junta leader Gen. Prayuth Chan-ocha on Tuesday defended his cabinet's doling out of pork in the southern province of Chumphon, where he also mentioned Feb. 24 as a possible election date.
Speaking in Chumphon province, Prayuth said he wasn't there to hand out money for support of his government but rather to develop the region through the proposed southern economic corridor project – which includes developing tourism, airports and regional seaports.
Either way, his visit to the south came with the cabinet approving a possible 200 billion baht for 34 projects in the southern provinces of Chumpon, Ranong, Surat Thani and Nakhon Sri Thammarat.
Read: Poll Must Be Held by May 2019, Official Says
Prayuth has come under criticism by politicians across the spectrum for traveling the nation staging photo ops and handing out goodies in visits that are tantamount to campaigning while they are banned from engaging in political activity.
Pro-democracy activist Rangsiman Rome said Tuesday that Prayuth isn't fooling anyone.
"If he is not campaigning, he would have visited these areas long ago. Everyone is trying to prepare for elections, and that's why Prayuth is out there – preparing readiness for elections," Rangsiman said.
The prospects for what would be the first general election in five years got a boost today when Prayuth said Feb. 24, a date recently floated by elections officials, was a potential choice.
Related stories:
Watching Prayuth and 'Three Friends' Campaign No Fun for Others