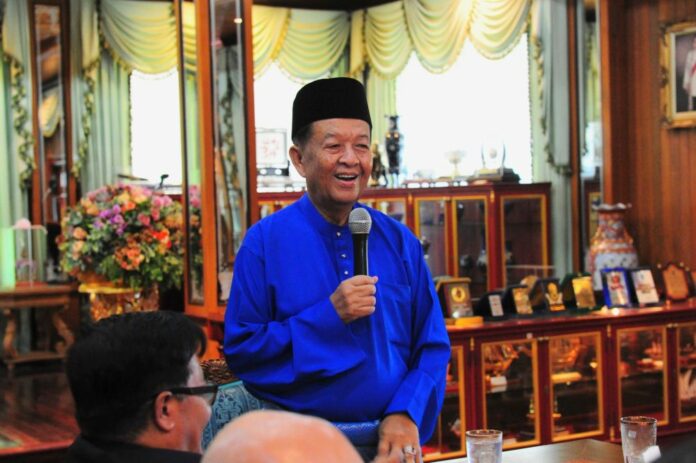 BANGKOK — A new party led by a Muslim politician said it is open to supporting the return of junta leader Gen. Prayuth Chan-ocha after elections slated for next year.
The Prachachart Party, led by a 74-year-old founder of a southern bloc of Muslim politicians, broke from the Pheu Thai Party earlier this year and hinted they may launch a party. Today they followed through by announcing they will register it with the Election Commission on Wednesday.
Spokesman Najmuddin Umar said the party, which held a meeting Sept. 1, seeks solutions to the separatist unrest that has plagued the Deep South for going on 15 years. It plans to field candidates all across the country.
Read: Cracks Appear in Post-Yingluck Pheu Thai Party
Najmudin, a former Pheu Thai MP for Narathiwat province, said the new party would push for a peaceful way to resolve conflicts in the deep south. "We will adhere to non-violence and talk to those with differing views."
The party draws from the ranks of Wadah, a coalition of southern Muslim pols who've traded allegiances many times over during its long history. For the past decade, it was firmly Pheu Thai.
Najmudi said that if Prayuth's returns as PM by respecting the rules of the junta-designed constitution, the party may support his candidacy.
"If, in the future, he competes under a democratic system, then we have no problem with him," Najmudin said.
The party spokesman added that the Prachachart Party doesn't perceive anyone enemies. He said the party wants to field candidates in 175 constituencies nationwide and hopes to gain 1.5 party list seats and 20 MPs that would enable it to propose legislation.
Wan Muhamad, or Wan Nor, was a minister of agriculture and cooperatives during the Thaksin Shinawatra administration and served as his deputy prime minister in 2004. He was also speaker of the House of Representatives and president of the National Assembly between 1996 and 2000. He's seen as a religious moderate sincere about cultivating a greater role for Muslims in society.
The party will launch with seven former MPs from the Deep South.
Pro-democracy activist Sirawith Serithiwat, aka Ja New, attended the Sept. 1 meeting as an interested observer. He said that although it aims to represent the whole nation, its focus appears to be on its stronghold in the south.
"It's a challenge for the party to prove that it's a party for everyone, and multicultural," Sirawith said.
Najmudin said nearly half of the party's 36-member executive board are not Muslim, however, including well-known newspaper columnist Nitipoom Navaratna, who serves as deputy leader.