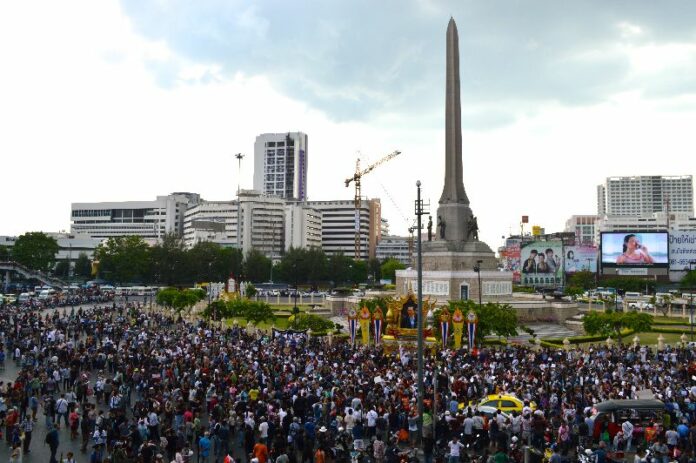 BANGKOK — Not one, but up to 16 memorials and monuments in Bangkok stand in legal limbo over which agency is responsible for them, a city official said Tuesday.
The stunning revelation came a day after the government called upon metropolitan authorities to settle the ownership question of Victory Monument.
But not all hope is lost. Ending weeks of debate, city planning department chief Sakchai Boonma said his agency will step in and take responsibility for the 16 unclaimed monuments, hand in hand with the fine arts department, which manages Thailand's historic sites.
"City Planning Department will be the chief agency responsible for maintenance," Sakchai said. "But if you want to do something that affects the structure of the monuments, you will have to seek permission from the Fine Arts Department."
The unlikely debate over who owns one of Bangkok's most iconic landmarks began several months ago when a district chief proposed building a museum and pedestrians tunnels beneath the Victory Monument but didn't know which agency oversees the memorial.
Adding to the confusion, the Treasury Department said Monday that not only is the ownership of Victory Monument in question, but that of a total of 16 monuments across Bangkok have no settled agency to oversee them. They include Democracy Monument on Ratchadamnoen Avenue and King Taksin Statue on Bangkok's western side.
The confusion comes because many monuments were built on areas carved from public roads – which fall under the Highways Department – creating a legal limbo that remains unsettled.
In today's interview, city planning department chief Sakchai acknowledged the legal debate over the 16 monuments, but said his office plans to take care of them all.
"It probably falls to our agency," Sakchai said.
He added that City Hall will soon call a meeting with all relevant departments to inform them of his agency's decision. After that, a report will be made to the government that the question has been settled.