Top: From left, Anti Sotus admins Pitawat 'Man' Chawsithan, Keerati 'A' Panmanee, Peerada 'Gib' Nuruk, and Kollawach 'F' Doklumjiak.
BANGKOK — Keerati was forced to cut cards out of paper and rehearse a cheer performance – for five hours a day, five days a week, including some weekends. This continued for three months, all for the pleasure of his upperclassmen.
The mindless tasks that dragged on and consumed his life took a toll on him and his classmates subjected to the same debasement. Some cried constantly and grew depressed. Others didn't have time to study and suffered academically. Their seniors would give the freshmen additional work if their friends didn't show up to help, and they started turning on each other.
"We wasted so much time," Keerati said of the project, which was to prepare for an annual performance in a school stadium. "We didn't create anything productive, and we developed no skills. If you didn't join in, everyone called you selfish."
Today, Keerati "A" Panmanee is the elected head of a group opposed to this and other forms of abusive behavior that fall under the umbrella of university hazing, through Facebook, where they call attention to degrading and sometimes harmful incidents on the Anti Sotus page, they advocate against its oft-cited creed of SOTUS, or Seniority, Order, Tradition, Unity and Spirit.
The freshmen welcoming activities, held for months as the school year opens, supposedly foster a camaraderie between an entire year of students, the kind not usually seen at foreign universities outside of fraternities and sororities. Like those "Greek" organizations, they are also networking opportunities to forge strong ties that can pay off with helpful connections after graduation.
Seriously degrading or abusive activities such as forcing students to touch each other's genitals or be burned by candles end up making news, but many SOTUS activities involve little more than forced singing and communal crafting. But even the relatively benign activities involve humiliation and verbal abuse.
I'm proud when I can convince someone who doesn't understand, who was messaging me to flame me, to see what they are doing is infringing on others' rights
Keerati is one of the founders of the seven-year-old anti-SOTUS group. Articulate and handy in English, the 28-year old stands out as the jovial figure among the dozen or so volunteer activists, most of whom are students or recent graduates.
They say that the kind of physical assaults once common in SOTUS-related rites have declined as awareness increases.
"We don't want to claim 100 percent credit, but in the almost seven years we've been operating, a lot of SOTUS has disappeared," Keerati said in an interview before a Sunday discussion panel they hosted at Thammasat University. Unlike many anonymous online advocacy pages, the Anti Sotus crew like to get out and show their faces. "The physically violent kind, like the spleen-bursting, has no more public space. If they do it, they have to hide it."
Read: Students to Be Prosecuted for Bursting Spleen of Underclassman
The legal brains of the team is law student Pitawat "Man" Chawsithan, 22, who attended Ramkhamhaeng University and St. Theresa International College. He knows the ins-and-outs of what constitutes a crime and monitors ongoing legal cases.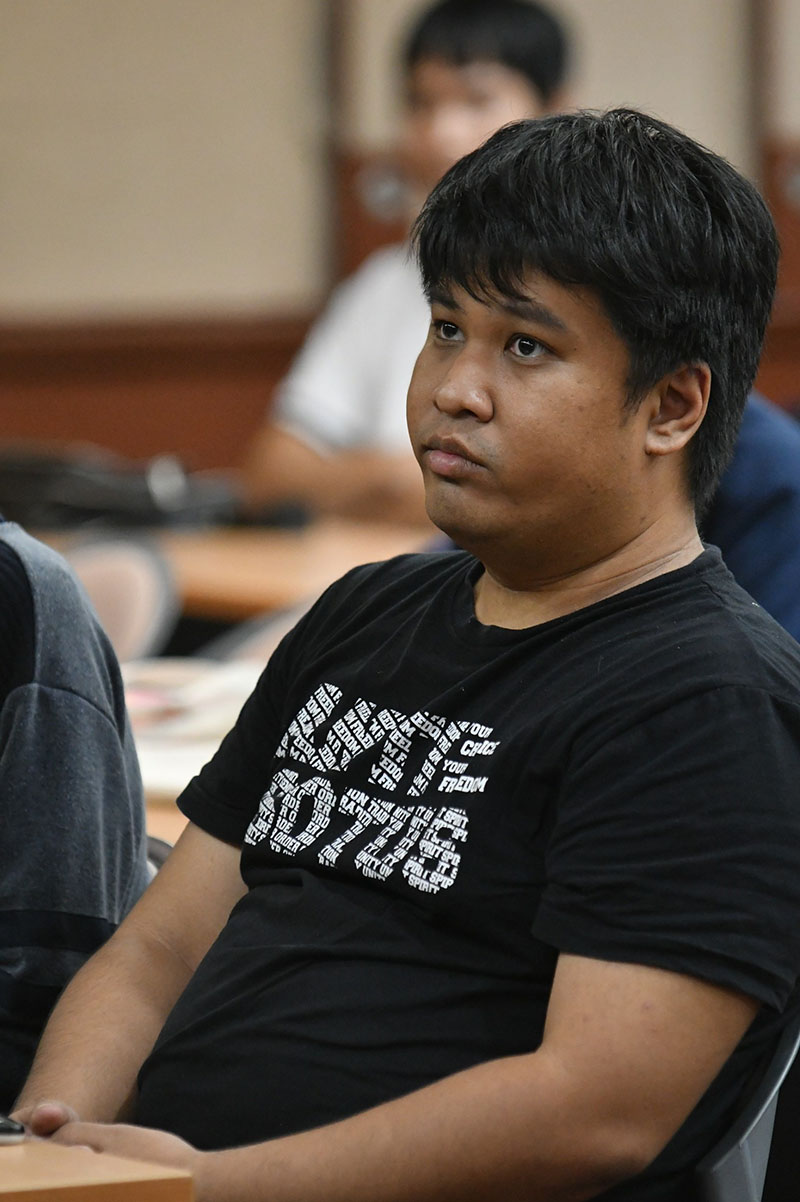 "A lot of the times, universities try to cover up the abuse or convince the victim not to press charges as if the students are children, even though their attackers are already too old to be called that," he said. "Sometimes they look for a legal loophole where they say they got consent to assault the freshman. But that can't be used, because assault is wrong anyway."
Man would look at home on a campus from the 1970s, with long hair, leather belts and dark glasses. On Sunday, he was especially animated in discussing three third-year students facing prosecution for beating a Rajamangala University of Technology Krungthep freshman until his spleen burst.
"They filed a criminal case and everything. For me, this is the first serious criminal prosecution of SOTUS, and a first great step," Man said, saying the three men had posted bail while awaiting trial.
'Gray Area'
Although the physical abuse may still happen out of sight, Keerati insists that verbal and emotional abuse still defines SOTUS and remains rampant.
"We're talking about coercive pressuring of students, like forcing them to participate in activities they don't want to, paying a fee to fund said activities and outright lying to them that it's mandatory," Keerati said. "Some people think this is a 'gray area' and not that wrong. But it is, and it's being challenged."
SOTUS defenders say the activities foster a sense of teamwork and membership, with freshmen cooperating to complete projects or show respect to their seniors by singing songs, dancing, participating in team games and so on.
Defense minister Prawit Wongsuwan infamously said in November after the death of a military cadet that he, too, endured physical punishment while he was in the academy.
"But I didn't die," Prawit said.
Keerati said that the benefits are overblown, sentimental and outweigh the costs.
"Their visions are built on romantic dreams. They want to see everyone crying and being friends while contributing to some national event, but you can't force that," he said. "Even more, they want freshmen to obey without critical thought, and to wai someone one year older like you wai your grandmother."
Read: Parties Stake Out Positions on 'SOTUS' Hazing
And SOTUS activities that involve prostrating on the ground en masse, he added, are insensitive to those with different beliefs.
"Thai people don't understand that people of different religions can't wai and graab [prostrate] to everything," he said. "It's these kinds of mass activities that are designed without diversity in mind."
Keerati says minds can be changed. He recalled convincing a SOTUS advocate that what they were doing was abusive after three days dialog over Facebook chat.
"I'm proud when I can convince someone who doesn't understand, who was messaging me to flame me, to see what they are doing is infringing on others' rights," Keerati said.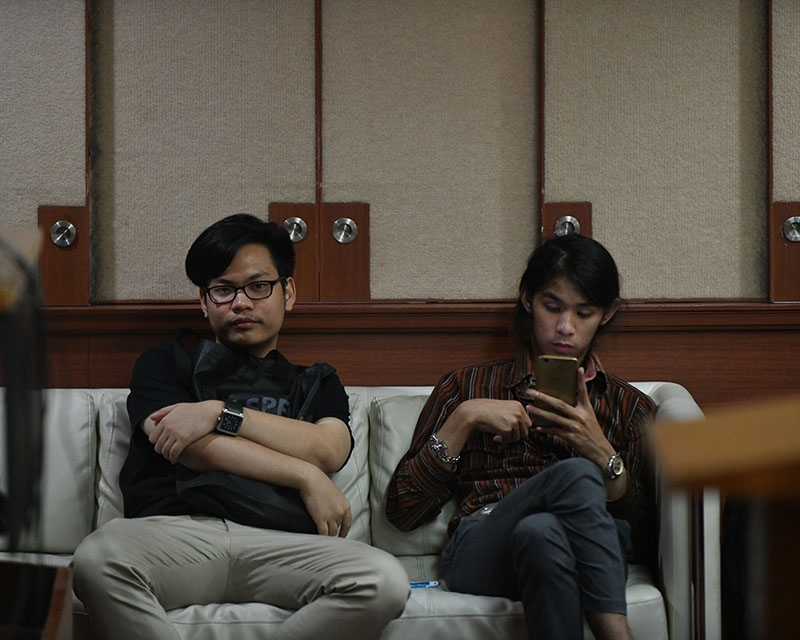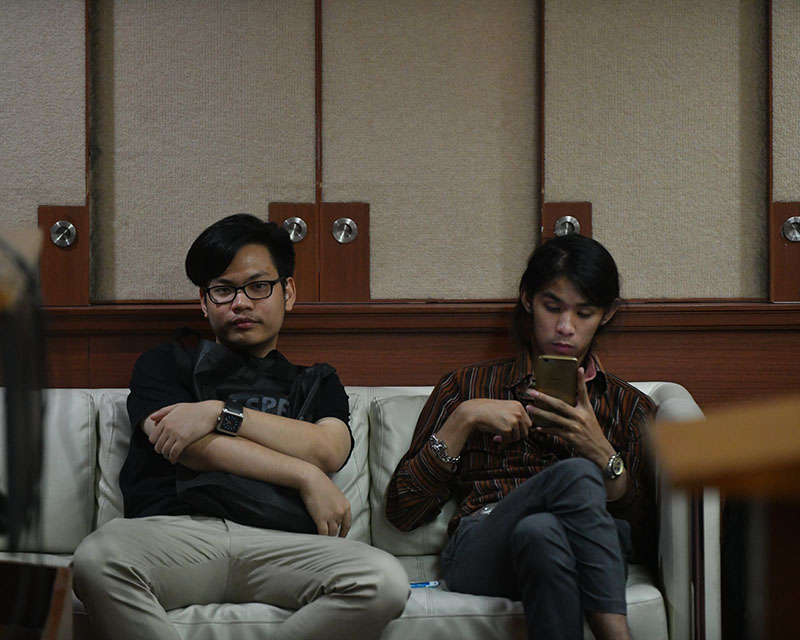 Empty Pockets
While eating with his fellow admins Sunday before their talk at Thammasat, one of them stood up and whooped in delight: Someone had just donated 2,000 baht, more than they had been expecting. The entire operation, Keerati said, is run on donations and volunteerism.
"Usually we don't have funding, so the most we can do is continue to run our Facebook page," he said.
Sunday's event at Thammasat University, their fourth annual meeting, cost them nearly 7,000 baht. They paid 3,800 baht to use a third-floor meeting room and about 3,000 baht to bring in admins who live outside of Bangkok. Donations didn't cover the costs, meaning they had to reach into their own pockets.
Keerati hopes that with extra funding, the group could hold talks about SOTUS at more universities, as well produce infographics about hazing abuses at various universities.
Keerati himself went to Kasetsart University, which along with Maejo University is known for some of the most intense hazing. At the SOTUS hazing at Maejo each year, freshmen are made to crawl through water for an entire night.
Keerati finds out about things that happen there thanks to a network of tipsters he calls the "Rebels of Maejo."
"If we could, I would like to work with foundations and groups that could help us intervene at more universities," he said. "I'd also like to pay our spies, who volunteer at their own risk to expose what's happening at their own unis or assemble donations for SOTUS victims."
Related stories:
Students to Be Prosecuted for Bursting Spleen of Underclassman
'Past the Point of Saying Sorry,' Says Family of Spleen-Ruptured Student
Uni Student Beaten Until Spleen Bursts in Hazing Ritual
SOTUS 2018: Hazing Hits High Schools
Parties Stake Out Positions on 'SOTUS' Hazing