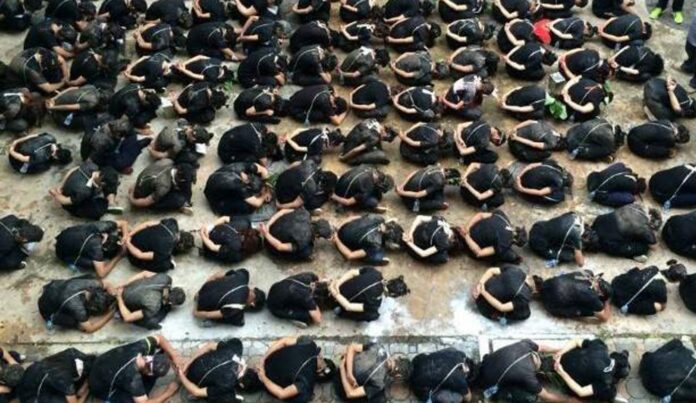 BANGKOK — Police on Friday were investigating the case of a university student allegedly beaten by classmates until his spleen burst.
Authorities said an unidentified student at Rajamangala University of Technology Krungthep was physically assaulted Thursday during a hazing ritual until his spleen burst and had to be removed, prompting his family to go to the police. He remains in intensive care, according to his family.
The news first circulated last night via a viral Facebook post by Rungroj Khwunkomol, the student's aunt.
"They said the reason for their vicious behavior was because [my nephew] didn't take care of the underclassmen well enough. His 20 other friends were also beaten up," Rungroj wrote. "It's like bad luck is playing a trick on him, that his spleen ruptured and had to be cut out. He's still in the ICU, on a breathing machine. They tried to kill him."
Rungroj did not reply to messages as of press time.
"He's still in a quite dangerous, critical condition. He has to be monitored round-the-clock," Kollawach Doklumjiak, the admin of an anti-hazing online group said by phone Friday.
An officer answering the phone at Thung Maha Mek Police Station said police had already received the complaint and were in the middle of an interrogation.
As of Friday afternoon, the university had not responded to the incident. The assailants, who have not been identified, are product design students in the Faculty of Science, Rungroj said.
Kollawach said that although hazing incidents such as these are neither worse nor an improvement over previous years, he's received tips about SOTUS abuses from lots of people due to increased awareness.
SOTUS, which stands for Seniority, Order, Tradition, Unity and Spirit, is the name for the creed of hazing widespread across Thai university, and more recently, high schools.
"Parents, you send your children to learn. Don't let them get assaulted by the fleas and ticks of society, their bodies and spirits violated," Rungroj wrote.
Related stories:
SOTUS 2018: Hazing Hits High Schools
Silpakorn Freshmen Allegedly Forced to Strip, Touch Genitals
Tackling the Dark Side of Thai University Initiation Rites
Freshman Forced to Sing, Slap Self Until Bruised in Uni Hazing Ritual
16-Year-Old Student Dies During Hazing