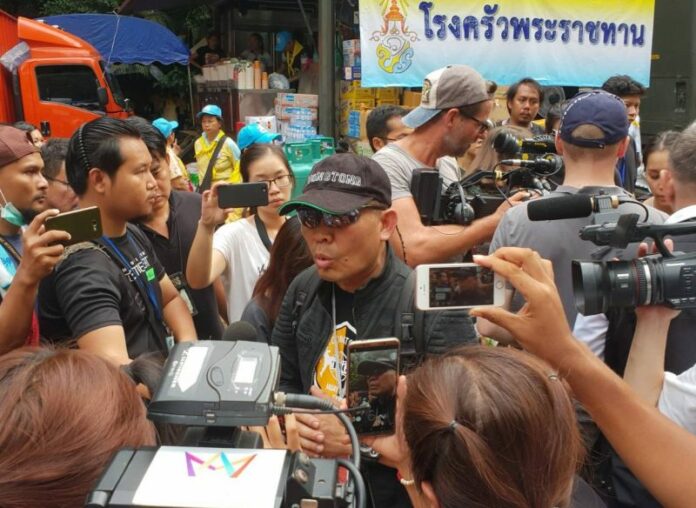 CHIANG RAI — It was early Friday morning when a source tipped us that someone had died overnight inside the cave where the massive search and rescue operation was in its 14th day.
The disturbing development set our team on edge and launched a frenzied effort to substantiate the tragic turn of events. Getting something like that wrong is much worse than not being first. My editor and I hurriedly drafted a story ready to publish as soon as it was solid.
Calls to local police were made in vain. We kept vigil on the road in to see if, following protocol, Mae Sai police came to investigate. Our source then sent another tip: The person who died may have been a SEAL. Our hope for confirmation now hung on the top rescue officials who would announce it about an hour later.
At 9:39am, we delivered the bad news: former SEAL Saman Kunan had given his life to the cause while resupplying oxygen inside the Luang cave.
Four days earlier, on July 2, I had almost gone to bed when I spotted the miraculous breaking news that the boys and their football coach had just been found alive 10 days after they disappeared inside the cave in Chiang Rai. I worked on the story with my editor Todd Ruiz until past 3am. The next thing I knew, I was on a plane, heading to the cave on my own.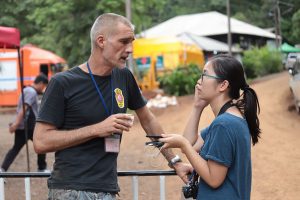 Walking up a muddy and rocky hill road at dusk the next day, my uneasiness grew as I headed toward an assignment where my own uncertainty paled in comparison to the uncertain fate of the team trapped just beyond sight. "How will this turn out?" was the question that would keep turning in my head in the coming days as the mood careened from soaring hope to anxious dread and, finally, seemingly impossible triumph.
In my first impression, the mood outside the cave that first evening, about 20 hours after the team was located, seemed one of resolve. All the soldiers, police, workers and volunteers were carrying out their assigned duties while reporters watched on, rumors flew and nothing much happened.
A couple of days later, it had settled into a routine of waiting. I filed stories to the newsroom based on what I heard at irregular press briefings. In between, from early morning until late at night, it was slogging through the mud in knee-high rubber boots to mine stories from volunteers who would speak.
I became anxious that things could go on like this for months as was suggested by the head of the rescue operation. On Wednesday night, Todd decided to join me in the field as the story became the sole topic of coverage. Little did we know, the situation was about to escalate rapidly.
It was the day after he arrived that news of the diver's death broke. With official confirmation, we made a quick tweak to our draft and published the story within minutes, thanks to the outstanding support of our newsroom team in Bangkok.
At that point, I was extremely relieved to have someone else with me there, knowing that I alone wouldn't have been able to pull it off as successfully as we had done.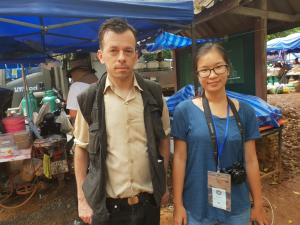 That's when everything seemed to take a bad turn. Saman's death unleashed a torrent of dire announcements from the tight-lipped officials. Oxygen levels in the chamber were running low. A desperate search for alternate ways to reach them hit a dead end. Water levels weren't falling as fast as they had hoped. The boys were running out of time.
The mood around the site completely changed. Things were on edge, and the authorities continued to be elusive about their newly urgent extraction plan. With options that all seemed bad or worse, there were indications that they could not decide on a course of action.
One thing that didn't change much throughout was the media's hunger for any information that would shed light on progress inside the cave. Although it lay only a short distance away, it was impenetrable but for a few loose tongues.
Stuck in a small area, we had no trouble spotting someone with potentially interesting intel talking to a reporter. Within seconds, others would also flock over, creating a thick wall around the source, like armies of ants fighting over a single drop of sugary water. The pressure was high, especially for foreign media without local sources, and a couple shoving matches broke out.
Eventually, as signs mounted that the extraction effort was imminent, the media and volunteers not directly involved in the operation were ordered to leave the site early Sunday morning. All complained but readily complied. We were happy with our decision to have left at 2am instead of camping overnight.
It was understandable. Outside the cave, too many times I saw throngs of reporters blocking vehicles or rescuers needing space to work. The officials, I presumed, could not risk that happening when the mission actually began.
So it was no great surprise when officials announced several hours later at the new media center that the evacuation had begun. Again, we were able to get the story up within minutes following the same established rhythm.
Then it was a more pointed waiting game. What would come out from the cave? Several stories were drafted based on the best – and worst – possibilities. The big moment came much sooner than anticipated. In fact, when our source told us that several boys were nearly out, we had a hard time believing it.
Camped behind the local government office away from the cave, I thought we would not get much, but our local reporter got an early tip-off for us: The first boys would be coming out soon.
The moment arrived. We got a time stamp of the first boy's exit, which was our greenlight to run the information. We hit publish and began a live report. It was one of the most intense, adrenaline-charged moments for us.
Being the first to break the shockingly good news, within minutes of it happening, caused a stir. Messages came pouring in from other reporters with one question: How do you know this?
We kept rewriting and updating the main story with every emerging detail in nearly real-time until the first four boys had been brought out and taken to the hospital, which marked a successful end to the first day's mission. It was thrilling.
Even more thrilling were the indirect confirmations that it was really happening, which came in the form of a helicopter roaring overhead or ambulance speeding past, minutes after we reported another boy out.
We continued the same happy cycle for the next two days of the mission. The moment we published our final report, a sense of relief flooded my body almost immediately. I had worked almost nonstop for nine straight days to cover one of the most dramatic and intense stories in recent years, and as a reward for that, I could not have asked for a better outcome for both the operation and our own professional achievement.
Although I'd hesitated to go there and felt flustered at the start, it turned out to be one of the most valuable and fascinating experiences of my career so far, and possibly for many years to come.