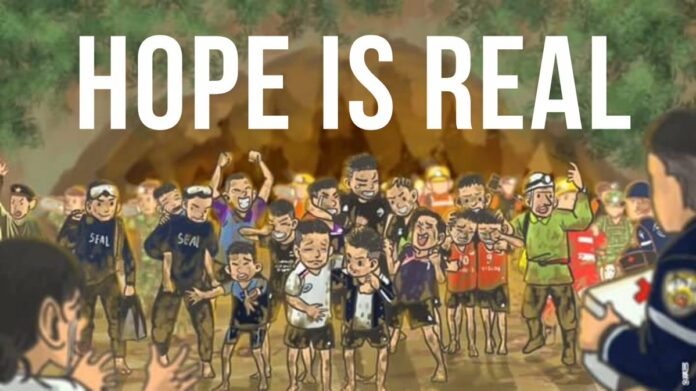 By Todd Ruiz and Jintamas Saksornchai
CHIANG RAI — Against all odds, four boys were rescued from the flooded Luang cave Sunday.
In a triumph for an uncertain mission fraught with danger, the young football players were successfully rescued after 16 days trapped in the dark in the flooded cave complex.
"All four have been delivered to the hospital, they're all safe," said a happy looking Narongsak Osottanakorn, the former governor who led the operation since the start.
Update: Seven Out Alive: More Daring Cave Rescue Success!
The first boy to exit the cave walked out at 5:40pm and appeared to be in good health, followed by another at 5:50pm. The third and fourth boys were brought out at 7:35pm and 7:47pm, but one was said to need "closely monitoring."
Narongsak said just before 9pm that all were alive and well.
They were brought out by an effort involving more than 90 professional divers, about 40 Thais and 50 from abroad.
Helicopters and 13 ambulances were standing by for the team to be taken to the Chiang Rai Prachanukroh Hospital.
The plan rehearsed was to transport them by ambulance to a hospital in Chiang Rai City 60 kilometers away. Any found in critical condition would be flown by helicopter to the same hospital.
Narongsak Osottanakorn, the former Chiang Rai governor and rescue operation chief, announced in the morning that the boys would be brought out in pairs, with two divers accompanying each one of them. He insisted that all were 100 percent ready, both physically and mentally.
The families had given a green light to the extraction plan, he said.
The operation is likely to resume as soon as 7am, Narongsak said. Cheers went up from volunteers and members of the media upon hearing the official announcement just before 9pm.
Going out the way they came in was a dangerous option of last resort. But fear they would drown or suffocate were they to remain any longer forced the hard choice.
Surviving what proved a shorter than expected journey of under four hours was a welcome second miracle six days after their discovery 5 kilometers inside by two volunteer British divers.
Spearheading the operation to guide the children out were 13 foreign divers and five Thai navy SEAL team members working in pairs to lead each boy out.
It required navigating perilously tight passages in muddy water against strong currents. One especially tight stretch reportedly required air tanks to be removed to fit through.
https://twitter.com/NESTA_US/status/1015620386598223877?s=19
But made it, they did.
Yet the work is not finished or the danger less. Rainfall Sunday could raise water levels inside, which had fallen to a point considered favorable by those who ordered the mission to go ahead.
Eight more boys and their coach remain to be rescued.
Additional reporting Pravit Rojanaphruk
LIVE from Chiang Rai Prachanukroh Hospital

โพสต์โดย Khaosod English เมื่อ วันอาทิตย์ที่ 8 กรกฎาคม 2018
LIVE: FIRST 2 BOYS RESCUED! Story: https://www.khaosodenglish.com/news/crimecourtscalamity/2018/07/08/rescued-first-boys-rescued-from-cave/

โพสต์โดย Khaosod English เมื่อ วันอาทิตย์ที่ 8 กรกฎาคม 2018
Correction: An earlier version of this story incorrectly identified the first boy out of the cave as Mongkol Boonpeam. In fact the boy was unidentified and Mongkol remains inside.