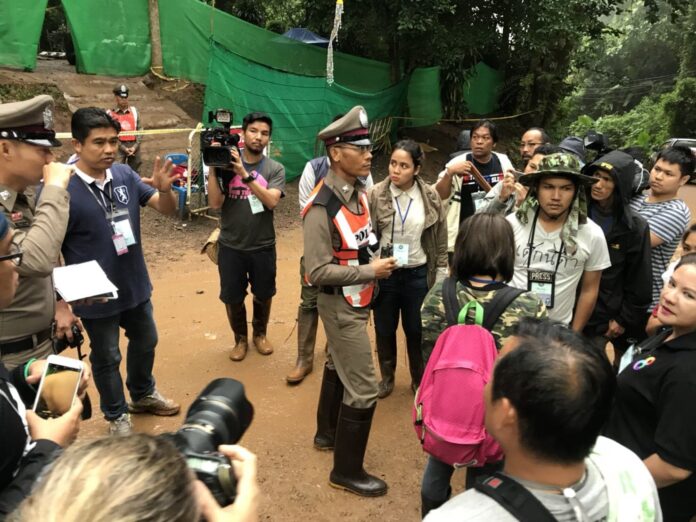 By Jintamas Saksornchai and Todd Ruiz
CHIANG RAI — Officials Sunday asked reporters to leave the area where they have been congregated in front of the cave as signs of frantic activity continued.
Read: Rescued! First Two Boys Rescued From Cave
Since Saturday, there have been many indications that the operation is imminent or already begun to extract 12 young footballers and their coach from the flooded Luang Khun Nam Nang Non cave in Chiang Rai province. It was announced just before 7am today, that all media would have to move away from the area in front of the cave where security has been stepped up since yesterday.
The announcement said no reporters would be allowed to stay in the area, and those who camped overnight would have to pack their gear and leave.
The new press area is near the local government offices about 2 kilometers away. Officials on site said it was a direct order from Narongsak Osottanakorn, the former governor who has led the mission.
Whether the decision signaled the imminent exit of one of the missing children from the cave, a new phase of the effort or something more ominous could not be determined.
No public statements have been made since Saturday morning, when Narongsak said he thought the effort needed to begin that day or as soon as possible.
Conditions inside the chamber where they have sheltered from flooding since they vanished June 23 have grown precarious, and rumors circulated yesterday that at least one child was already on the way out.
Ambulances from several hospitals and vehicles belonging to those involved in the operation were seen driving up to the area this morning.