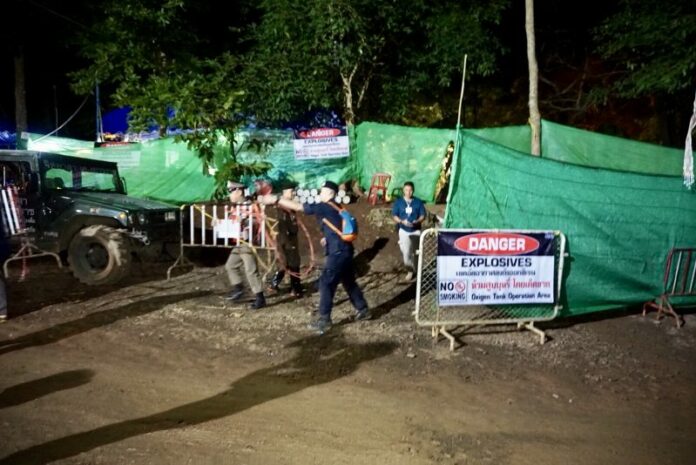 By Todd Ruiz and Jintamas Saksornchai
CHIANG RAI — Ambulances have been moved in place. Barriers erected to block all vantage points of the cave entrance.
Read: Rescued! First Two Boys Rescued From Cave
As rumors grow that the operation to rescue at least one of 12 boys trapped in a flooded cave has begun in secret, the surge of activity outside suggests something is at least imminent.
No statements have been made since a morning briefing when the former governor leading the rescue operation said the conditions were right to bring them out today.
Every day has seen hundreds of rescuers, divers, laborers, soldiers, medics and volunteers swarm ling the site. Since this morning, that activity has multiplied.
LIVE: Mounting signs of activity that rescue imminent or possibly underway

โพสต์โดย Khaosod English เมื่อ วันเสาร์ที่ 7 กรกฎาคม 2018
The site's security has been boosted, security tape put up to keep reporters from loitering in the road and high-ranking officials said to be en route.
At 9pm several layers of tarps were placed over the way to the cave to obstruct the views of the sea of camera lenses pointed that way.
Rumors have circulated among reporters but they have been too flimsy to report.
At about 7pm, the wife of a very senior official told Khaosod English the rescue was underway, but her claims could not be verified.
This is a developing story and may be updated without notice.
Note: Khaosod English mistakenly posted a draft version of this story earlier with additional information that could not be verified. We apologize unreservedly for the mistake and any confusion it caused.