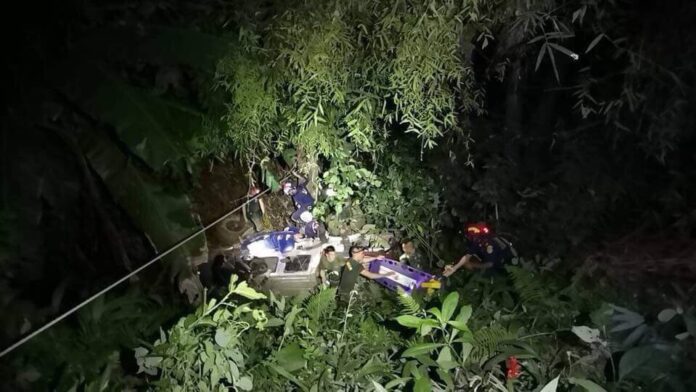 By Todd Ruiz and Jintamas Saksornchai
Update: At 9:05pm a privacy barrier was placed to obstruct the entrance to the cave.
Read: Rescued! First Two Boys Rescued From Cave
CHIANG RAI — Four people were injured when a vehicle carrying rescue volunteers went off a cliff as signs that the rescue is imminent or might have begun mount.
At about 7pm, a driver who was not familiar with the way lost control of the vehicle and went off the cliff in the area close to Luang Khun Nam Nang Non cave, where 12 young footballers and their coach have been trapped for two weeks.
Three people suffered minor injuries, while the fourth victim's injuries are said to be critical. Those with minor injuries have been taken to a hospital.
Rescuers have been unable to move the critically injured victims from the scene.
The rescue volunteers were on their way to reinforce another crew.
Something seems to be happening outside the cave as ambulances are now standing ready near the entrance.
A woman who claimed to be the wife of a very senior official claimed the rescue is underway, but her claims could not be confirmed. Narongsak Osottanakorn, the former governor leading the operation, was said to be in a meeting still deciding the course of action.
This is a developing story and may be updated without notice.