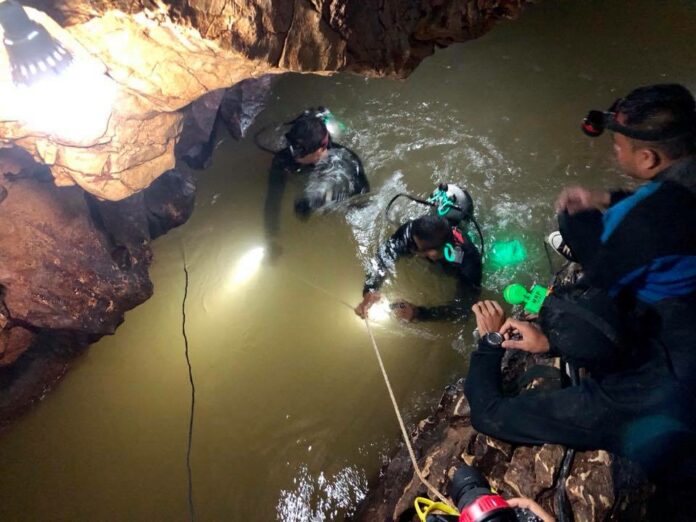 CHIANG RAI — As the Navy SEALs say, the easy day was yesterday.
As Thailand and the world cheer the news about 12 young footballers and their coach being found alive deep inside a northern cave complex, officials said the hardest part of their rescue operation – getting them out safely – could take months.
Navy officials told reporters the effort will consist of three steps. Firstly, divers with basic food supplies and high-protein gel will be dispatched to the cavern where the 13 were found and explore the surroundings.
The team will be followed by more divers and doctors to assess their health and establish a base camp for the rescued to live comfortably. The third step involves giving them four months worth of supplies and scuba diving training.
Navy commander Adm. Naris Pratoomsuwan told reporters Tuesday it takes about three hours to traverse the muddy water between the spot where the 13 were found and the nearest current base camp.
"Traveling from Chamber No. 3 to the area where the kids are staying takes about three hours, and another three hours back. It takes time." Naris said, adding that food, water and a military field doctor were already on the way.
Officials said the ongoing effort to pump out water from the cave will continue in the hope that the level will drop and allow those trapped to wade their way out. Parts of the 10 kilometer-deep Tham Luang Nang Non are currently flooded due to the annual monsoon season, which lasts till October.
Chiang Rai Gov. Narongsak Osatanakorn declined to give a timeline of how and when the boys will be able to get out.