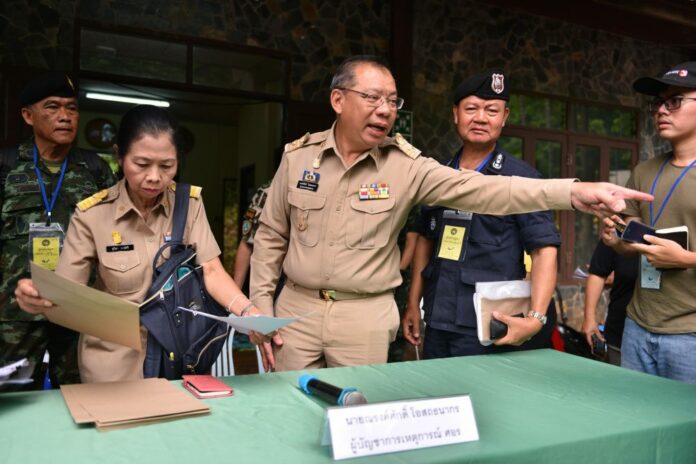 BANGKOK — When the public face of the largest rescue operation in recent Thai history gave his morning briefing to reporters, he took a moment to address questions about his own future.
"Let me confirm that the command structure here is still the same," said Narongsak Osottanakorn, who holds degrees in geology and engineering. "I'm still the top supervisor, as usual."
Why the assurances? Because he was recently fired with just a few days left on the job when the Wild Boars team walked into the Luang Cave late last month.
Despite his spotless profile as governor of the northernmost province – a job he landed one year ago – Narongsak's term is being brought to an end by a government order signed in April.
I am very happy / We are very happy too / Thank you so much / Thank a lot #13ชีวิตต้องรอด #ทีมหมูป่าอะคาเดมี #13ชีวิตพบแล้ว pic.twitter.com/ENQaAu2Nkv

— ตาหวาน ปานแก้มขวา (@Lext74495646) July 3, 2018
Gov. Narongsak Osottanakorn is seen in the middle of this picture drawn by a Twitter user to celebrate discovery of the 13 missing footballers.
As Narongsak's stature has grown in recent days, the news has not sat well with many now praising his proactive command of the scene, especially those who see it as retribution for anti-corruption efforts he spearheaded long before the public eye turned northward.
Earlier today an activist petitioned junta chairman Prayuth Chan-ocha to revoke the order transferring him away from of Chiang Rai. The government insists the transfer was part of usual reshuffling of officials.
"My demand is this: Because the success of his work is now apparent, and because he has to continue his efforts in taking care of the 12 kids and farmers of the flooded farmlands, he should stay," transparency gadfly Srisuwan Janya said in an interview after submitting his petition.
In the cabinet-signed order signed three months ago, Narongsak was among a dozen officials to be transferred. He's to be sent to the much-smaller neighboring province of Phayao, a move widely seen as a demotion.
"It's considered a punishment in the bureaucracy," Srisuwan said.
The activist is not alone. Since the rescue mission for the 12 young footballers and their coach launched in late June, Narongsak has come to be held up as a model official by a captivated nation.
He's always seen on the scene, either giving orders to rescue workers or comforting families of the stranded boys. His no-nonsense briefings have been praised by those frustrated with hyperbolic media speculation. Many are now calling on the junta to reconsider his transfer.
"What?? He's a good man, but he can't keep his job? I'm confused," one user wrote on the popular Pantip webboard.
"Please, Uncle Tuu, let him stay for two or three more years," wrote Natda Panduang on a Facebook thread, invoking Prayuth's nickname.
"Band together and protest, so he won't have to go!" Noy Thuwanit wrote in the same thread.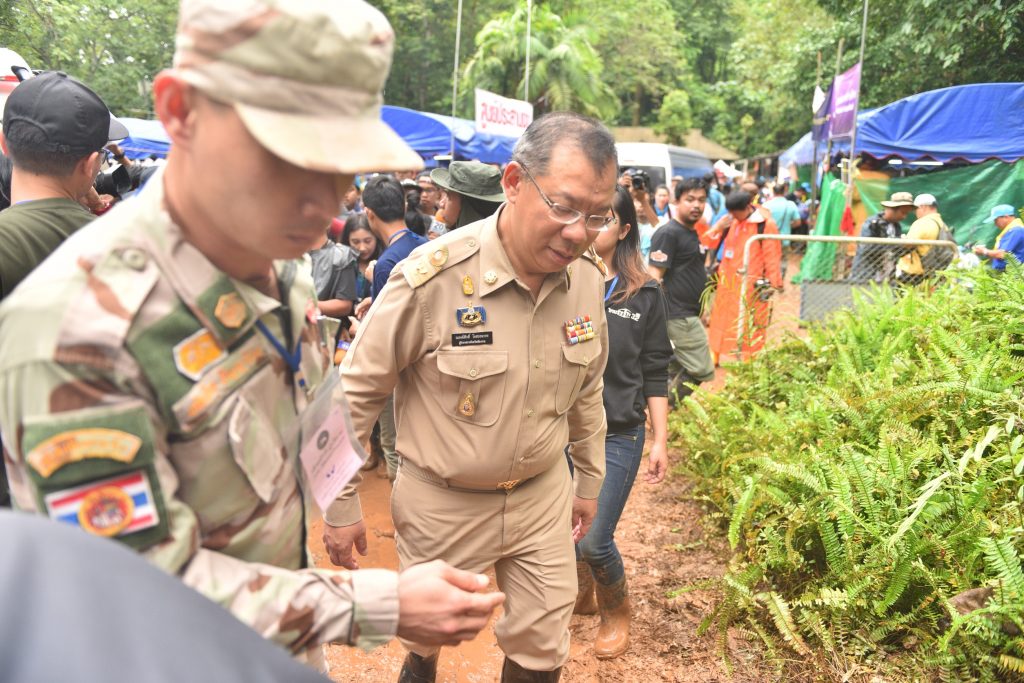 Prayuth himself praised the governor Tuesday for his good governance, but said the order was already signed by His Majesty the King and is therefore irreversible. Prayuth maintained the move was not made in retaliation.
"I believe that a good person can progress in his career no matter where he is," Prayuth told reporters. "It doesn't mean he was at fault or anything. He'll be moved because we want a talented person to develop that area."
In an interview, Narongsak's deputy repeated the same narrative.
"Many people were transferred, too," Chiang Rai Deputy Gov. Somboon Sirivej said. "The transfers were in accordance with what's appropriate."
But Srisuwan sees a malicious plot to punish Narongsak for standing up against corruption.
In his year on the job, Narongsak ordered investigations of government projects he believed tainted, including a 300-million baht waste-processing plant and a 13 million-baht aquarium.
The governor also refused to greenlight a plan to build a 50 million-baht tourism landmark on the grounds that the money would be better spent on roads and infrastructure. He rejected a similar plan involving a 32 million-baht statue of an ancient northern king in the middle of Kok River because it might damage the environment.
In an interview with the media in March, Narongsak challenged the authorities to transfer him, saying he'd rather move somewhere else than approve a questionable deal under his watch.
"I'm willing to go anywhere, but I would not sign wrongful projects," Narongsak said. "I'm willing to move to anywhere – as long as I won't have to deal with a mess like this."
He got his wish a month later.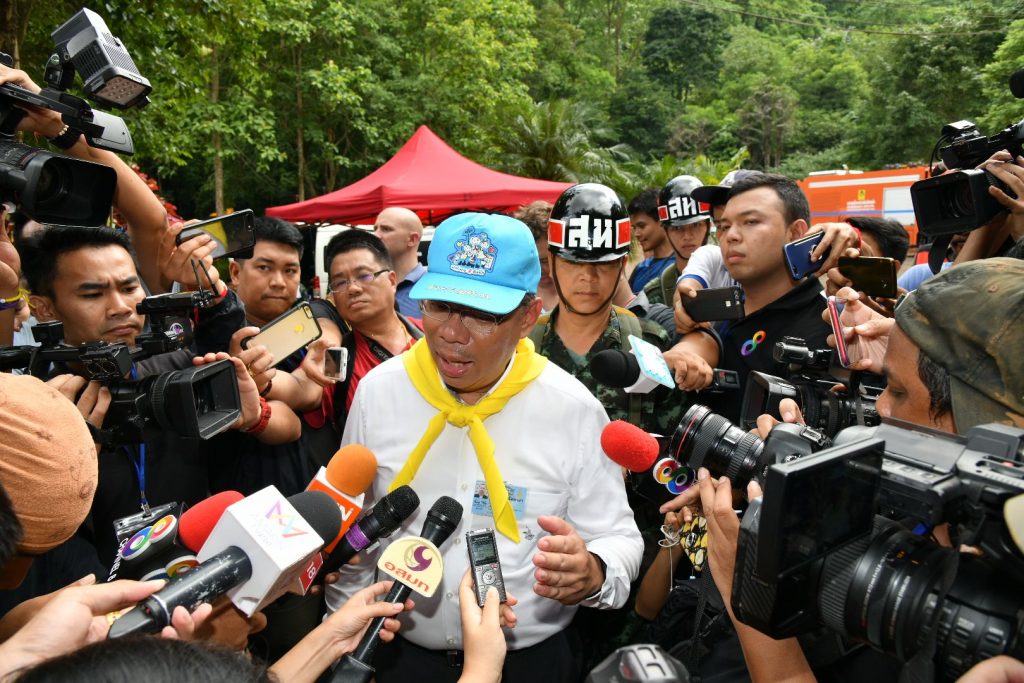 His deputy, Somboon, said he was told by the Ministry of Interior Affairs that a special order will be issued so that Narongsak can stay on the job until the rescue operation is completed.
Asked whether Narongsak's push-back against graft was a factor in his transfer, Somboon laughed.
"The prime minister insisted he's a good man," Somboon said. "And he won't go far. Phayao is in the same group with Chiang Rai. We'll still work together."
Srisuwan the activist said a special extension isn't enough. He wants the government to issue a new order reappointing Narongsak to the job and ask His Majesty the King to approve it.
"I think the government is just afraid of losing face," the activist said. "Because when they signed it on April 24, it was before the cave incident. That's all. They only realized now that they had transferred the real deal."