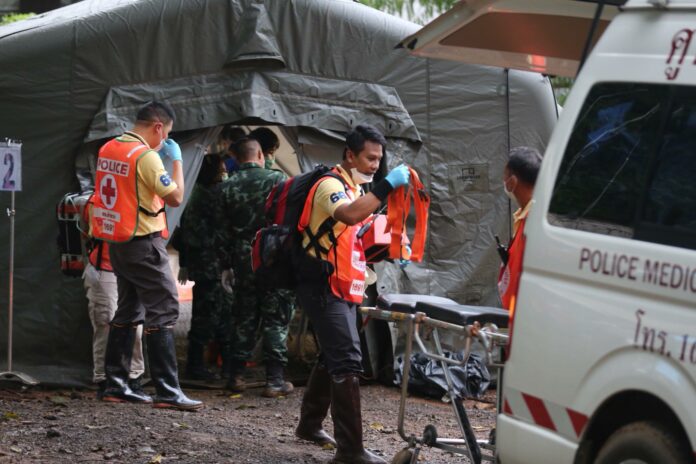 By Jintamas Saksornchai and Todd Ruiz
CHIANG RAI — Four more young football players were rescued Monday from a flooded cave on day two of a dangerous rescue mission that so far has been an outrageous success.
By 8:23pm, the last boy of the day had arrived safely at the top provincial hospital 60 kilometers away after being evacuated from the scene by helicopter. The four unidentified boys were the second batch to be retrieved in as many days by ace rescue divers from a deep and winding cave in the northernmost reaches of Thailand.
Update: That's Ten: Another Boy Rescued From Cave
"We succeeded in rescuing four kids, all transported out by air," operation leader Narongsak Osottanakorn said that about 9:30pm.
The effort will continue tomorrow, conditions permitting.
The eighth boy emerged 6:59pm, following three brought out between 4:45pm and 6:30pm.
None of the boys has been identified. Narongsak said the four rescued today are "healthier" than those brought out yesterday.
All those rescued from the Luang Khun Nam Nang Non cave are to be flown or transported by ambulance to the Chiang Rai Prachanukroh Hospital.
The boys were rescued as part of an operation that officials said began at 11am.
That means the fifth boy's rescue took about just under six hours, or an hour less than the day before when the first four were brought out.
The boys have been brought out in pairs, each guided by two expert divers.
Today, more than 100 divers altogether are said to be involved in the operation. Working directly to guide the boys out are 13 expert foreign divers and five Thai Navy SEALs.
At 5:57pm, a helicopter was heard flying toward the local airfield, likely returning from taking the first to the hospital.
That makes for eight of the 13 people who have been trapped under increasingly dangerous conditions since late last month. Four came out Monday, and it is possible Tuesday's plan was to bring out four more. Only four boys and their 25-year-old coach now remain inside.
Getting all of them out the same way they came in was always a long shot, but so far one proving itself with two days of good news.
There has been sacrifice. On Friday, a former navy SEAL who suited up again to volunteer died on a dive to resupply the oxygen needed for the long and arduous dive.
Junta chairman Prayuth Chan-ocha has arrived to visit the rescue site.
Additional reporting: Pravit Rojanaphruk
This is a developing story and may be updated without notice.