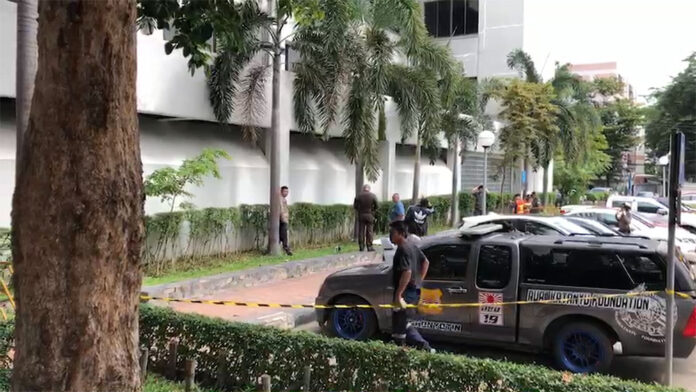 BANGKOK — The national police chief said Tuesday that a murder would be re-investigated after the father of the victim jumped to his death because the lead suspect was cleared of wrongdoing.
Supachai Tanlahasuntorn's leap from a court window Monday – which his wife was barely restrained from following – drew promises to review the case and heavy criticism of the judiciary for allegations the original investigation was tainted.
Read: Father Jumps From Court After Man Acquitted in Son's Murder
"We'll see how the case was built, whether it was circumspect and detailed enough," Gen. Chakthip Chaijinda said. "If there was any misconduct by the police investigators, actions will of course will be taken upon them. You don't need to be worried about that."
He insisted every party would be treated fairly.
Chakthip said the metro Bangkok police commander promised to personally review the case for any negligence by investigators.
Lt. Gen. Chanthep Sesawet said a team of investigators will look for any further evidence to reopen the case. Put to question on details of the case, he said the case file did not indicate whether the murder weapon was ever found and declined to answer if the victim's DNA was found on the accused.
Supachai jumped Monday from the eighth floor of the Court of Justice on Ratchadaphisek Road minutes after the ruling. His wife, Rewadee Tanlahasuntorn, also tried to jump with him but was stopped by court officials.
Their son, Thanit Tanlahasuntorn, was stabbed to death in Bangkok's Din Daeng district during Songkran in 2016. The family accused the police of not being helpful with the case and said many security cameras near the scene appeared broken when they asked for the tapes.
Several hours after the tragedy struck, a court spokesman defended the verdict and said the case against Nattapong Ngeonkeeree, who was the main suspect, could be appealed.
Suriyan Hongwilai said the evidence against the accused was not strong enough. The security camera footage used in the trial showed Thanit fighting with two other people but did not show his murder. A key witness never appeared to testify due to being hospitalized for mental health treatment.
"The judicial system needs to be fair to every side, whether the plaintiff or the accused. The ruling was handed according to evidence and witnesses of the case," he said. "Although we believe we did the best in our work, when an incident like this occurs, everyone feels deeply upset and sorry. We will however continue to do the best in our duty."
Correction: A previous version of this story misspelled the last name of the family as Kanlahasuntorn. It is in fact Tanlahasuntorn.