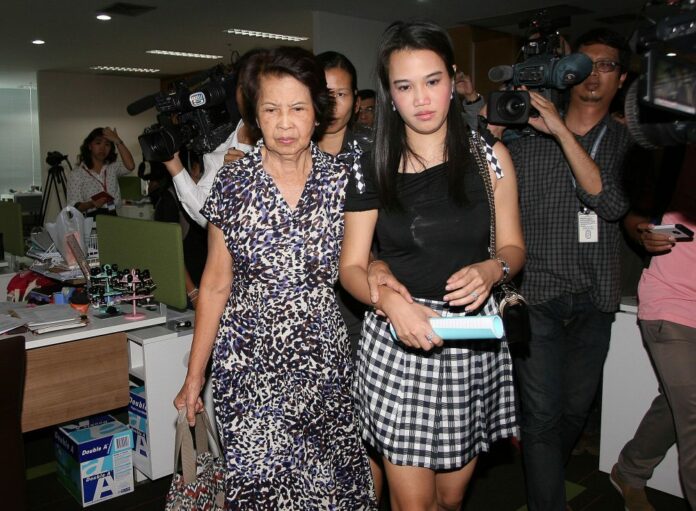 BANGKOK — A woman convicted to die for murdering her husband, the late Olympic shooter Jakkrit "Ex" Panichpatikum, had her sentence overturned Tuesday on appeal.
In a new twist to a legal saga that has captured attention for years, the court also ruled it was Jakkrit's mother-in-law who ordered his assassination back in 2013, reportedly to save her daughter, Nitiwadee "Nim" Pucharoenyos, from further domestic violence.
While Nitiwadee left the courthouse a free woman, her 76-year-old mother, Surang Duangchinda, was sentenced to life in prison. Surang is expected to post bail and appeal her conviction to the Supreme Court.
"Naturally, she will file an appeal," Chamnan Chadith, a defense lawyer, told reporters after the ruling was read.
Jakkrit's family said they would not contest Nitiwadee's exoneration. His mother told reporters she has made peace with his death and forgiven his killers.
The case dates back to October 2013, when gunmen on a motorcycle shot and killed Jakkrit in Bangkok as he waited at a red light in his car.
Nitiwadee, a physician, was also in the vehicle. She was found attempting to resuscitate the athlete by police and reporters arriving on the scene. But police soon charged her with murder, accusing her of ordering a hit on her husband in revenge for years of domestic abuse.
A dramatic twist came when her mother, Surang, held a news conference to publicly confess to the murder, saying she arranged the killing to protect her daughter.
A criminal court in 2016 rejected her confession and convicted Nitiwadee of murder. She was sentenced to die but walked free after posting a bond of 1 million baht. Two men identified as the hired guns were given life sentences.
But in today's verdict, the appeals court said there was sufficient evidence pointing to Surang's guilt, defense lawyer Chamnan said. Surang was originally sentenced to die, but the penalty was reduced to life sentence because she confessed.
According to Chamnan, the court reasoned that Nitiwadee and Jakkrit still loved each other and were willing to work out their relationship, so it was unlikely that she would arrange his killing.
"In summary, the court believes the two were trying to reconcile … They still had bonds of love between them. They even bought a new house together," Chamnan said. "The court believes that if she hired the gunmen, she wouldn't put herself at risk by riding along with him on that day."