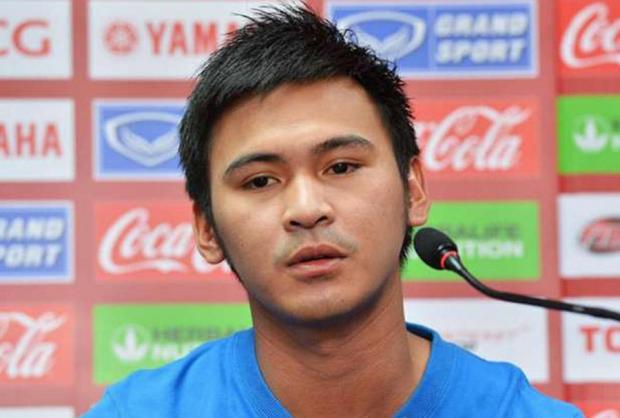 BANGKOK — The police force gave a red card Friday to a celebrity footballer mixed up in a series of serious allegations, including raping a minor and threatening to murder his girlfriend.
The decision to expel Atit Daosawang marked the end of the Chiang Rai United defender's police career, three years after he joined the ranks as a noncommissioned officer. Police spokesman Krissana Pattanacharoen said the 25-year-old athlete has missed more than 15 days of work without explanation.
"It is considered dereliction of duty," Krissana said.
Once a rising star who played in domestic and international tournaments, Atit became mired in legal troubles and controversies in recent years.
Most recently, his ex-girlfriend wrote on social media that Atit was not only a gambling addict and alcoholic, but he also forced her to lend him money and threatened to kill her. A separate criminal investigation was launched against Atit in 2016 on suspicion that he sexually assaulted a teenager.
Col. Krissana said Atit's ex-girlfriend had filed complaints with police while the rape case is still pending further action from the prosecutors.
"The police commissioner has instructed the officials to investigate these cases in a straightforward manner, with accuracy, speed and fairness," Krissana said.
Chiang Rai United manager Alexandre Gama told reporters that Atit will be summoned to explain his action. The player is already under probation for a previous infraction involving a personal loan from his girlfriend he asked the club to repay for him, Gama said.