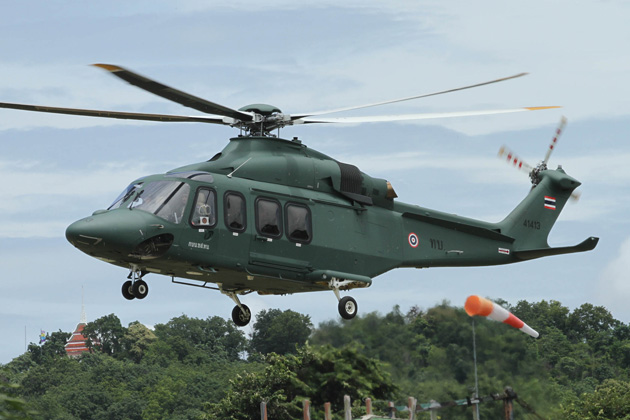 BANGKOK — While the media have saturated the country with tributes to the duty-free tycoon who died in a helicopter crash Saturday, a transparency activist noticed something unusual in the details.
Srisuwan Janya noted today that the military paid nearly three times as much as Vichai Srivaddhanaprabha did for the same type of chopper that he lost his life in. And Srisuwan, a persistent good-governance petitioner, wanted to know why.
"The chopper owned by the tycoon was more modern than what the military has, so it should be more expensive. Yet the ones owned by the military are more expensive even though they are older models," Srisuwan said in an interview. "It raised a lot of suspicions."
Read: Data Recorder Recovered From Vichai's Helicopter
The helicopter in which Wichai died was an AW169 made by Italian defense firm Leonardo. It costed Vichai about 280 million baht, Srisuwan said.
Yet when the Thai army bought 12 helicopters of a more outdated type from the same Italian company between 2012 to 2017, it paid 675 million baht to 737 million baht for each, according figures published by the armed forces and cited by Srisuwan.
"The acquisitions might not have been straightforward," he said. "Maybe there was something going on on the inside."
He said that he's heard only five of the original 12 choppers bought remain functional, with the rest under repair.
Srisuwan added that he will file a formal complaint to the national auditor's office about the cost disparity tomorrow.
Defense Ministry spokesman Kongcheep Tantravanich said there is a difference between civilian and military models of the helicopters, hence the gap in price.
"They have different functions," Maj. Gen. Kongcheep said.
Price information available online indicates the military spent well over market price for the aircraft. A military-outfitted AW139 helicopter, the same model bought by the Thai army, reportedly sold for about 348 million baht apiece in 2013, according to Aviation International News. AW149s, a more recent model bought by the Thai army last year, sell on the market for about 480 million baht each, according to an aviation research company.
The defense spokesman added that the military is prepared to explain about the issue when Srisuwan files his complaint.
"The armed forces are ready to be scrutinized, whether by internal government agencies, or external agencies or the public," Kongcheep said.