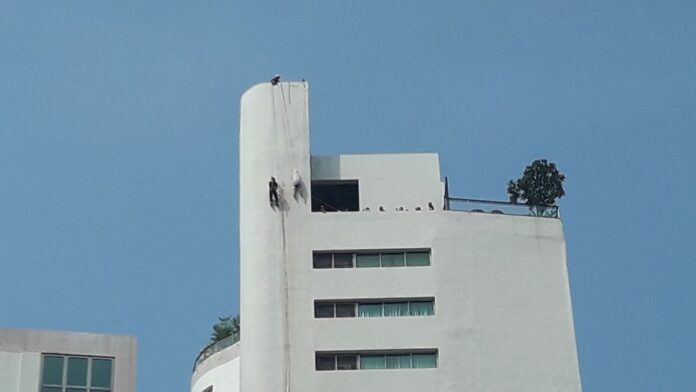 PATTAYA — Police say a Norwegian man found hanged from atop a highrise in Pattaya city center this morning most likely committed suicide.
The 69-year-old man is believed to have shot himself with a homemade firearm while standing on the edge of his condominium's rooftop with a noose around his neck, Lt. Col. Kosala Ngampong from the Pattaya City Police Station told reporters.
Read: Norwegian Found Hanged in Full View in Pattaya
The nylon rope was tied at the other end to a fire hydrant. Several knives were also found on the rooftop, along with what appeared to be a suicide note, Kosala said.
The sight of the body, which could be seen kilometers away, horrified Pattaya residents who shared videos and photos online. Rescue workers took several hours to retrieve the body from the side of the 31-floor condominium. The deceased was wearing only shorts.
Police said the body was taken for a forensic examination.