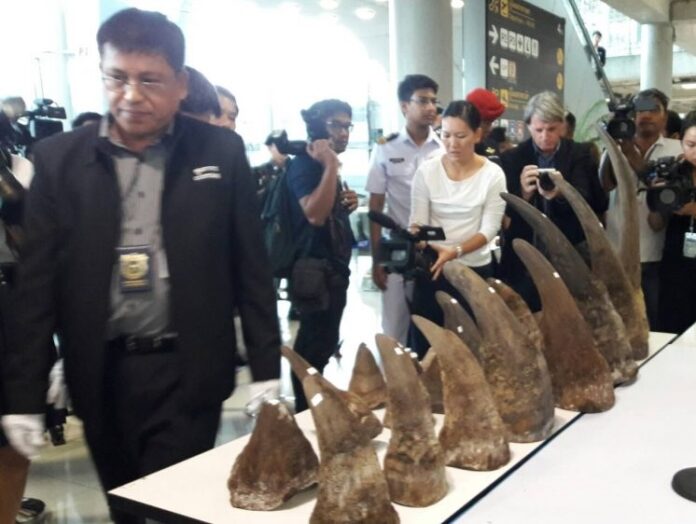 BANGKOK — A court Tuesday convicted two women of smuggling 173 million baht worth of rhino horns past airport security and a high-ranking official who vouched for their luggage.
For attempting the crime early last year, which led to the most valuable seizure of illegal rhino horn at the time, Thitirat Arai, Kansinee Anutranusart and Worapat Boonsri were sentenced to four years in prison for smuggling protected animal parts.
The police commander in charge of the case said the investigation to capture other possible suspects is ongoing.
"We are still checking their financial traces to see if anyone else is involved," deputy police commissioner Chalermkiat Sriworakan said by phone Tuesday.
Prosecutors said Thitirat and Kansinee hid 50 kilograms of rhino horns in their bags and attempted to pass through a customs checkpoint on March 10, 2017, at Suvarnabhumi Airport. They were escorted by Worapat – then a public Saraburi province prosecutor – and two policemen.
The 21 horns came illegally from Ethiopia by way of Cambodia. Thailand is a popular transit point for traffickers.
Once stopped by custom officials who demanded to inspect the luggage, Worapat said they contained wine and told the officers not to open the bags, the court heard. He also asked the officials how much money they wanted, which led to another count of bribery.
Security camera footage of the incident showed the officers open the luggage anyway to find the large haul of horns. Thitirat and Kansinee managed to escape while their bags were being searched, while Worapat was detained on the spot. The two women were later arrested.
Two police officers who were escorting the women were not charged with any crime after their commander maintained the pair weren't aware of the contraband.
The Attorney General's office said it's also deliberating on whether Worapat should be disciplined for trying to use his influence to help the smugglers through.