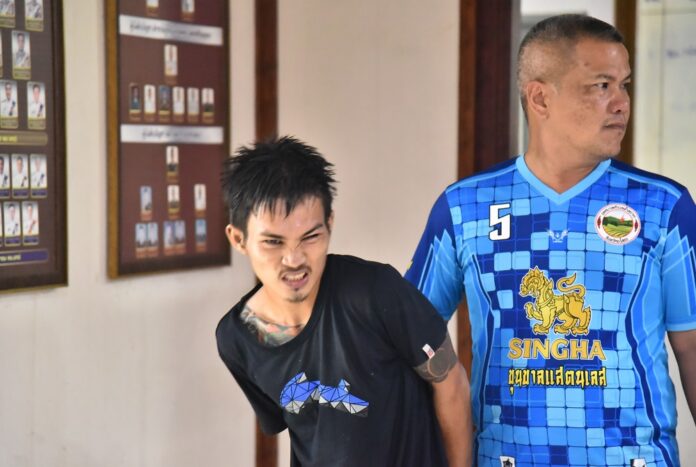 AYUTTHAYA — A suspected drug dealer fooled a cop into looking for a nonexistent snake in his cell before locking him up and dashing out for a brief moment of freedom early this morning, police said Tuesday.
And yes, the whole thing was captured on camera.
In what looks like a scene from a prison break thriller – or farcical comedy – Anan Komolwanich managed to not only escape his cell at Ayutthaya's Sena Police Station, but also elude capture for six hours.
It all started when 23-year-old Anan, who was in a holding cell for alleged drug dealing, shouted at about 9.30pm that there was a snake in his cell. The guard on duty, Sgt. Ratchada Supawong, went to check but found nothing.
Reports said Anan repeated the false alarm thrice more. As Ratchada made a fourth inspection, Anan grabbed the key from him, bolted out of his holding cell and locked the guard inside. He then ran into a wooded area which police began to search.
He was captured toward 3am, hiding about a kilometer from the station. Col. Wasuthep said Anan faces an additional charge of escaping custody.
The officer in charge of the station said the guard would be punished for breaching safety protocols.
"This is a disciplinary violation. It's very clear. There must be punishment," Col. Wasuthep Kongklom said in an interview. "However, because it took little time to capture the suspect, there might be some grounds to lessen the penalty. But there will definitely be punishment."
The police colonel said standard protocols state that a guard should not enter the jail unless he first makes sure the suspect cannot flee.
He also acknowledged that there have been other recent escapes involving human error.
Wasuthep cited an incident in Suphan Buri province six months ago in which a suspect managed to saw the bars off his cell window with a tool his wife slipped to him in a lunch box.
"The problem isn't our equipment. The problem is humans failing to follow procedures," the station chief said.
Related stories: