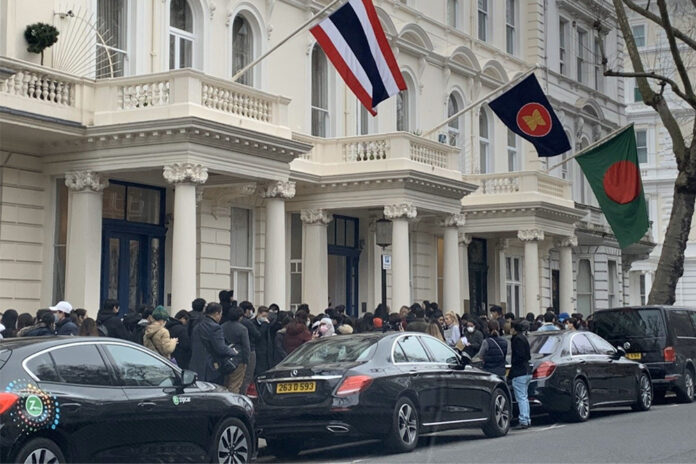 BANGKOK — Many Thais living overseas on Thursday said the new government's mandate against coronavirus infection would make their trips home almost impossible under the current circumstances.
The new policy – which changed twice in less than 24 hours – required Thai and foreign nationals to present health certificates and embassy approvals before boarding planes to Thailand. But Thais living in countries already struggling with the pandemic say the certificates are exceedingly difficult to acquire, while embassy officials are said to be suffering from the lack of any coordination.
"The country's top executives do not exercise their power in an integrated manner, so the retribution falls upon bureaucrats and citizens," Facebook user Sirada K Ning wrote in the photo's caption, which has since been shared over 1,200 times.
She also posted a photo of dozens of Thais queuing up in front of the Thai embassy in London for the necessary documents – even as the British government urged the public to practice social distancing.
"This announcement exposes citizens to the risk of infection because people have to gather at one place," Sirada wrote. "Volunteer doctors and officials are also at risk. The 'fit to fly certificate' does not guarantee that a person is free of the virus. It's just a basic health check-up."
The announcement was published by the Civil Aviation Authority of Thailand (CAAT) and set to come into effect on the midnight of March 22, Thailand's local time, or less than 48 hours after the public was informed.
Suwapon Phusanpong, a 55-year-old resort owner who is currently on a business trip to the United States, said none of the hospitals or clinics in Los Angeles he visited were able to issue him a health certificate.
The Thai consulate in the city was also unable to provide any guidance to him, he said.
Facebook pages for Thai consulates, such as its mission in London, were flooded with comments asking for clarity and criticizing the government for its abrupt measures.
"This abrupt announcement is causing everything into chaos," user May Sirikran said. "These documents are not easy to get, everything has to follow the procedures. The best protection right now is to minimize going outside, but now everyone has to go out after a health certificate. What do you want?"
"Are you creating a condition for us to wait until death here in England?," user Kaewsakorn commented. "I'm a Thai citizen and it's my constitutional right to return to Thailand at any moment. I understand that it's affecting the rights of those in Thailand, but you shouldn't push the burden to Thai students here."
Section 39 of the 2017 Constitution bans any action that may prevent Thai nationals from returning to their country.
Foreign affairs ministry spokesman Cherdkiat Atthakor did not respond to comments as of publication.
Prior to yesterday's announcement, many travelers were already confused by a series of contradictions in border policies announced by government officials.
The CAAT previously said it required all air travelers from 11 countries to present their health certificates, as well as health insurances in case of foreign nationals, upon boarding their flights, only to be dismissed as rumors by its own director on Thursday.
But later on the same day, PM Prayut Chan-o-cha not only confirmed its validity but also extended the mandate to cover everyone flying into Thailand.