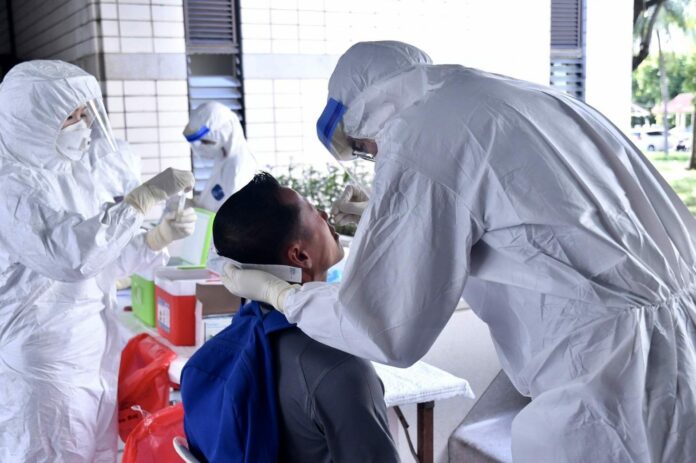 BANGKOK — The first known case of the omicron variant of the coronavirus in Thailand was found in a traveler from Spain who entered the country nearly a week ago, the Ministry of Public Health said Monday.
Suphakit Sirilak, director-general of the Department of Medical Sciences, said the person was first tested for COVID-19 on Nov. 30 and the result came out the following day as positive, with a strong indication that the infection was caused by the omicron variant. The traveler, who is said to be an American citizen, was then tested again on Dec. 3, producing the same result.
Suphakit said there is now "99%" chance that the person was indeed infected with the omicron variant.
The unnamed patient was described in the ministry's news conference as a 35-year-old U.S. citizen who works and lives in Spain. He reportedly received the single-dose Johnson & Johnson vaccine back in June.
Suphakit said the patient is now receiving treatment in hospital, adding that no one is considered to be in high-risk contact with the man, because he took strict safety precaution during his travel.
Suphakit also said there is currently no reports of a local outbreak involving the new variant, and the traveler's infection is categorized as an imported case. The news about an South African woman testing positive for the omicron variant over the weekend turned out to be a false alarm, since the test indicated it was delta variant, Suphakit said.
Much remains unknown about omicron, including whether it is more contagious, as some health authorities suspect, whether it can thwart vaccines, and whether it makes people as sick as the original strain.
However, reports from South Africa, where the variant was first detected, suggest that hospitalization rates have not increased alarmingly. U.S. President Joe Biden's chief medical adviser, Dr. Anthony Fauci, said early indications suggest it may be less dangerous than delta, which continues to drive a surge of hospitalizations in the U.S. and elsewhere.
"Thus far, it does not look like there's a great degree of severity to it," Fauci told CNN. "But we have really got to be careful before we make any determinations that it is less severe or it really doesn't cause any severe illness, comparable to delta."