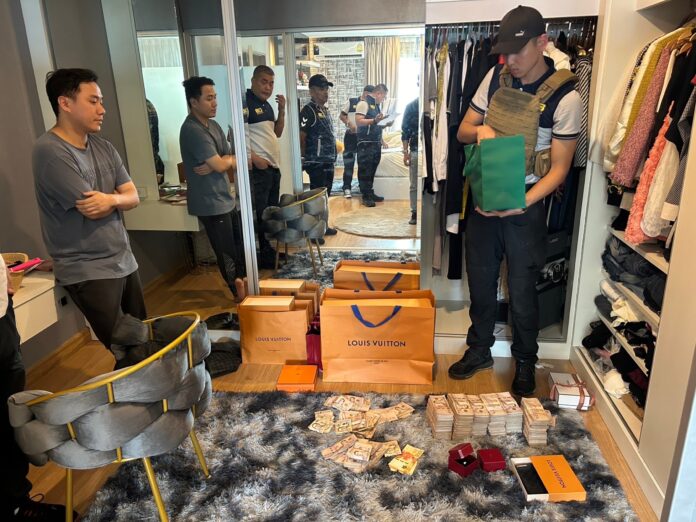 BANGKOK — Five people were arrested for allegedly running a fake police website that defrauded more than 1,000 cybercrime victims, police said Friday.
Central Investigations Bureau commander Jirapob Puridet said five suspects, including a Chinese and a Cambodian nationals, were arrested after police raided nine locations across the country. They were charged with fraud, importing fake information under the Computer Crime Act, involving in a transnational organized crime, and money laundering.
Pol. Lt. Gen. Jirapob said initial investigation found that the suspects scammed more than 1,000 people out of eight million baht in just two weeks, but the total damage is believed to run to billions of baht.
Under the scheme, scam victims were lured to a website pretending to be the homepage of the Central Investigations Bureau through a sponsored search result as they were trying to find the legitimate police website for filing a complaint online.
A link to a Line chat application account on the website then connected the victims to scammers, posing as lawyers, who instructed the victims to give out their personal information as part of the "consultation."
Once the scammers got the information, they told the victims that their money was laundered in an "online gambling website," created by the scammers, and they needed to create an account and place a bet in order to get their money back as the scammers claimed that they were able to "hack" the website.
Those who fell for the trick would then gamble more and more money in hope to get their money returned as the scammers pretended that they were able to "hack" the website and doubled the deposit for the victims. The victims never get their money back.
Apart from the fake police website, police said the suspects also operated a total of 98 fake websites, pretending to be online casinos, e-commerce platforms, financial services, cryptocurrency investment platforms, airlines, and a job search service. The websites were hosted in Thailand and ten of them were ordered to be shut down.
Police are still tracking down the remaining suspects, including a Chinese national who is believed to be the leader of the group, and Thai nationals who opened bank accounts used in the fraud.