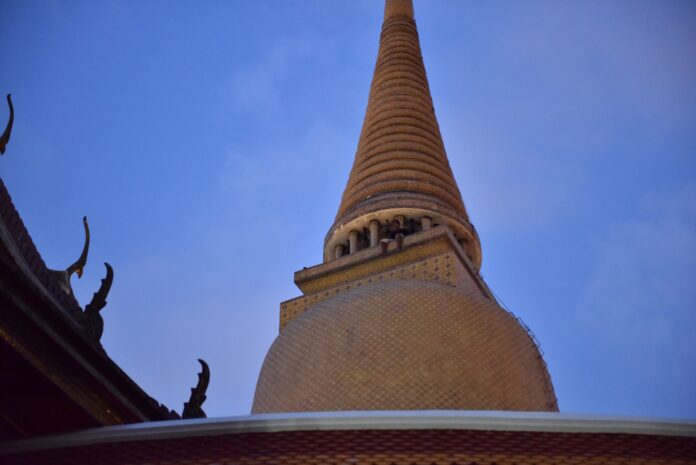 BANGKOK — An emotionally disturbed man scaled a chedi at a temple in the capital's old quarter Monday evening before police managed to talk him down.
The unidentified man, believed to be in his late 20s, climbed the central chedi at Wat Ratchabophit at about 5:30pm and began singing loudly. Police Lt. Col. Jaturong Jusing said he and rescue workers who showed up could not understand the man, who was ranting and raving incoherently while talking in circles.
He reportedly refused to cooperate with police and insisted they send soldiers instead.
"Soldiers are here! Ten-hup. Left, face!. Right, face!" he yelled upon seeing the military men before offering an explanation. "I wanted to see the sunrise from here!"
Wasan Imsawat, an officer at the Ministry of Defense, said he often saw the homeless man wandering in the area in disheveled clothing. Wasan said that he overheard the man earlier Monday saying he wanted to return home to Sisaket province prior to his appearance atop the chedi.
Officers took about 40 minutes to coax him into coming down. He appeared frightened and continued ranting verbally. He wasn't carrying any money or identification, but said his name was "Lun Fa" and that he had ambitions to be a rapper.
Officers gave him water before sending him to Samran Rat police station where he was given a sobriety test.
"There was no alcohol or drug use, his mental faculties just aren't all there," said station chief Torkiat Porahombut, adding that they sent him to a hospital specializing in the mentally ill. "He's safe now."