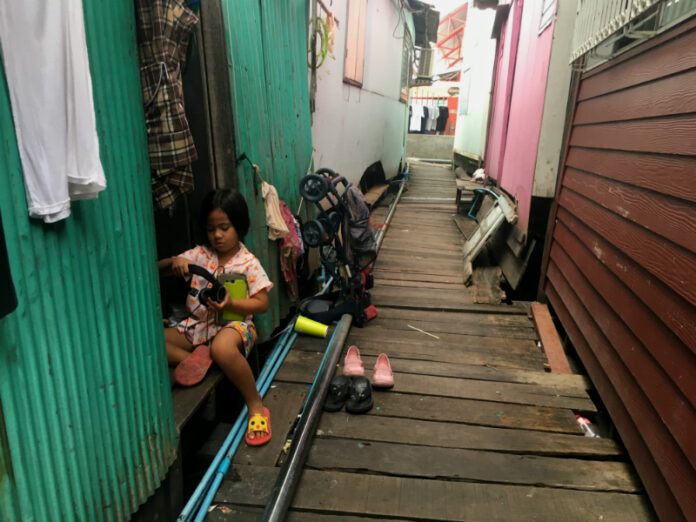 BANGKOK — Like many of her neighbors, Urai Puangkam said she knew that her home alongside the Chao Phraya River, where she has lived all her 54 years, encroached into the river.
But that wasn't an issue when it was built by her ancestors, who she said used to live in a boat on the same spot.
On Monday, she got the final word from city officials – she would have to leave, along with 10 more riverside communities ordered to abandon their homes next year to pave the way for paving its banks.
"I never want to leave," she said. "I told the study team every time they came to my house that I disagree with the project. But that's it."
Read: Massive Chao Phraya Redevelopment Gets Start Date
At the community meeting held near the Krung Thon Bridge, city officials said every household would receive at least 30,000 baht to relocate but offered no exact deadline for when they would be displaced by the massive and controversial redevelopment project will begin.
"We will have to reclaim all the areas that were encroaching," said Thaiwut Khankaew of the Bangkok Metropolitan Administration's Public Works Department.
Only residents who could produce land titles would receive additional compensation for loss of income. Most households do not.
The 10 communities, located on the east bank near the Krung Thon Bridge, join two dozen others along the seven-kilometer stretch that will be redeveloped on both sides as part of a prestige project. Community members, architects and environmentalists have slammed the project as poorly considered.
Thaiwut said the first two contracts, totaling 5 billion baht, have been approved for work to begin on the Thonburi side between the Rama VII and Phra Pin-klao bridges, where only 12 households would be immediately affected. Construction is expected to start in June.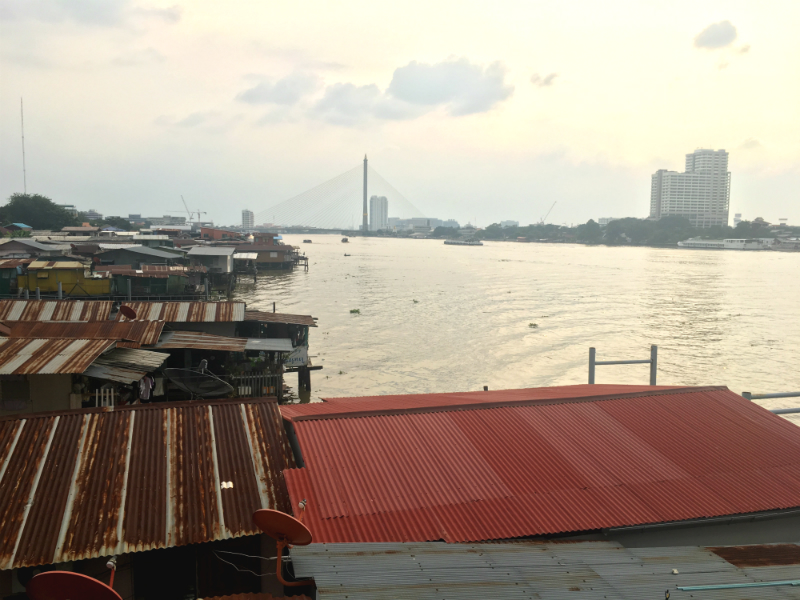 The redevelopment project has been championed by the military regime, which envisions a national landmark comprised of a promenade, bike lane and museums that will open the riverside area for public use. It has been criticized for ignoring input from the public and other stakeholders. Architects and designers have said it will be an eyesore.
Shortly before submitting plans to City Hall in September, the design team of King Mongkut's Institute of Technology Ladkrabang and Khon Kaen University withdrew part of them for a central structure under a cloud of plagiarism accusations. The revised design has not been made public.
Thaiwut said the final design for the 10-meter wide walkways and other landmarks, such as the museums and piers, will only be made public after they are approved, possibly in December.
Lives Disrupted
While some people living along the river have agreed to move into public housing, others remained concerned Monday when discussions didn't clarify many details.
Urai, who learned she must definitely leave her home, had practical questions that went unanswered.
"I want to know what is the exact amount we will be paid?" she said. "Tell me the exact date that I have to move."
The public housing being offered is far from the river in the Bang Yai district of Nonthaburi and Nakhon Pathom's Nakhon Chai Si district. Both are approximately 40-minute drive away from the communities.
Each apartment will cost 400,000 baht with government loans payable in 20 years. City Hall said it would also provide assistance finding jobs.
A government agency which helps relocated those evicted from their homes by a series of government reclamation projects said it was a good option for them.
The Community Organizations Development Institute said residents would have legal ownership of their units unlike the homes built over the river.
But that's little comfort to those being forced to move away from the lives and work and communities they have known for the sake of building a bike lane.
"They are putting us into debt," said Chamnien Puangraya, 54. "I wonder is it really necessary to ride a bicycle?"
Thaiwut from City Hall holds a different view.
"You may say the bike lane is for the rich," he said. "But development is not for the poor or the rich, it's for everyone."
Related stories:
Architect Council Says University Can't Actually Design River Project
Riverside Design Dropped Under Cloud of Plagiarism Charges
Top Architect Says River Project Plagiarized Design
Opponents, Proponents of Chao Phraya Boardwalk Open Fire
Locals Ready to be Evicted for Chao Phraya Boardwalk, Official Says
River's Friends Float Hope for Public Hearings on 14B-Baht 'Promenade'
Radical Makeover of Chao Phraya River Delayed
Chao Phraya Promenade Should be Sent Back to Drawing Board, Architects Say