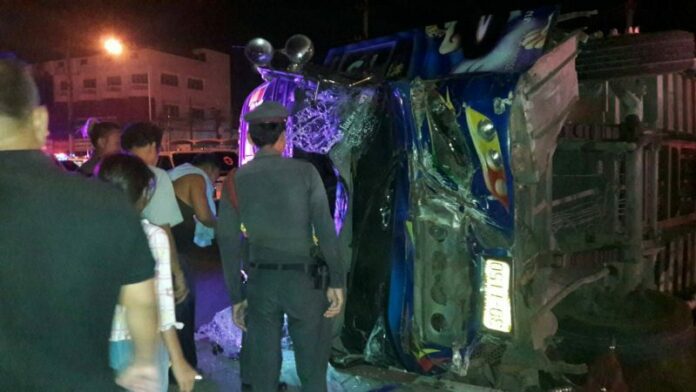 LOPBURI — A bus and truck collided with each other Wednesday evening, injuring 20 and killing the bus driver.
The bus was carrying factory workers when it crashed into a Toyota truck just before 8pm in Wang Muang district. Bus driver Samruay Bampen, 67 – who some passengers blamed for causing the accident – was killed.
"The bus crashed into the truck. People in the bus said the bus ran a red light, but we will have to pull security tapes to make sure," police Lt. Col. Suwet Muangtong said Thursday morning. "Two people were critically injured, and one died."
Most of the bus passengers were female employees of the Lopburi branch of Minibea Co. Ltd., a Japanese company that manufactures machinery and electrical components.
Emergency officials sent the injured to Phatthana Nikhom Hospital. Suwet said neither driver was drunk.
Police investigators said the truck was waiting at a red light when the bus drove through the intersection at high speed as the signal was changing. The truck, whose driver survived, had just entered the intersection on a green light. The bus rolled after crashing into the truck.