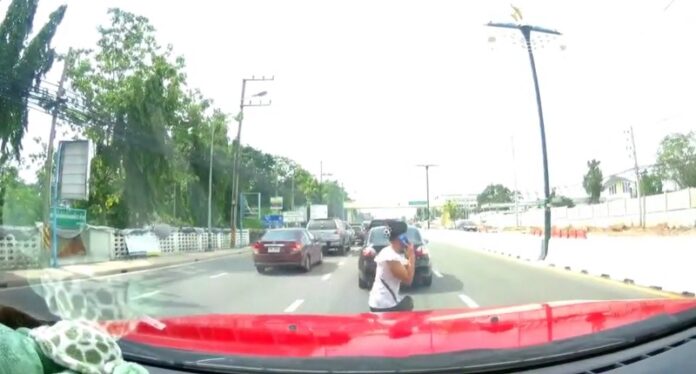 CHONBURI — A woman struck by a car as she crossed a road while talking on the phone in dramatic footage circulated online has died, police said Thursday.
Sudchada Buripia, 40, was seen talking on her mobile phone while crossing a four-lane road in the Si Racha district of Chonburi province on Wednesday when she was struck by a car and sent flying through the air.
Footage of the incident from another vehicle's dash cam quickly found its way online. After passing the first three lanes safely, the school janitor did not look for oncoming cars in the fourth lane, which was clear at the moment. She was then hit by a bronze Honda and her body flew across the lane to land on the hood of another car.
Mungkorn Somsud, who drove the Honda that struck Sudchada, said he did not see her coming.  She was taken to a local hospital with severe injuries, and the commander of Si Racha police confirmed Thursday morning that she later died.
Police Col. Phobpol Jakkaphak said no charges had yet been filed against the driver.