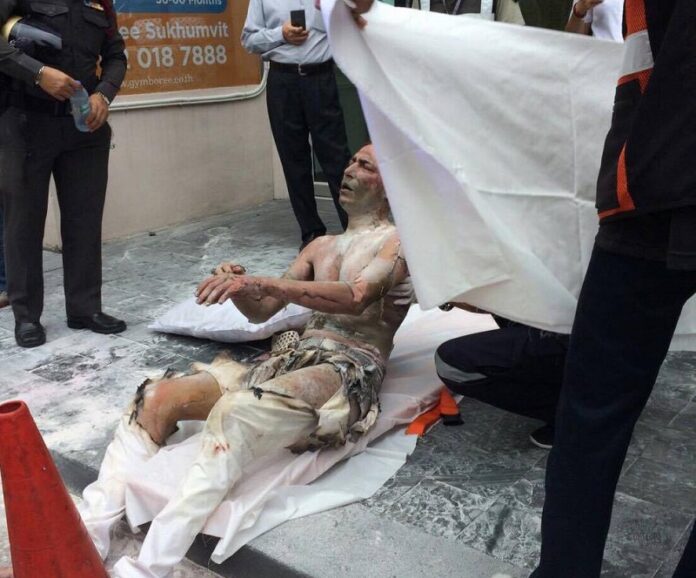 BANGKOK— A man set himself on fire and tried to charge into the Iranian Embassy on Friday afternoon as voting was underway inside for that nation's presidential election.
The man lit himself on fire with the contents of a plastic bottle and lighter at about 1pm in front of the embassy on Soi Sukhumvit 49/6. A fire extinguisher was used to put out the flames. The badly burned man, who police have yet to identify, was taken to the Police General Hospital.
"He still refuses to talk," said police Lt.Col. Jirakrit Jaruphat of Thonglor police station.
The polling station opened inside the embassy this morning, and police said there were not many people inside the embassy at the time of the incident.
Police Sen. Sgt. Maj. Anek Permsomboon, who was stationed at the embassy today, told Matichon he saw the man walking toward the embassy with a sign reading "Don't voted Iris" in English and another three words in Arabic.
Today's Iranian election is seen as a contest between hard-line cleric Ebrahim Raisi and moderate incumbent President Hassan Rouhani.
The man shouted something in a language the officer believed to be Farsi before pouring the gasoline over his body and igniting it with a lighter. Anek said the man tried to enter the Iranian Embassy but could not get inside, so he ran back to the front of the building.
Anek said he brought the fire extinguisher to help save him.