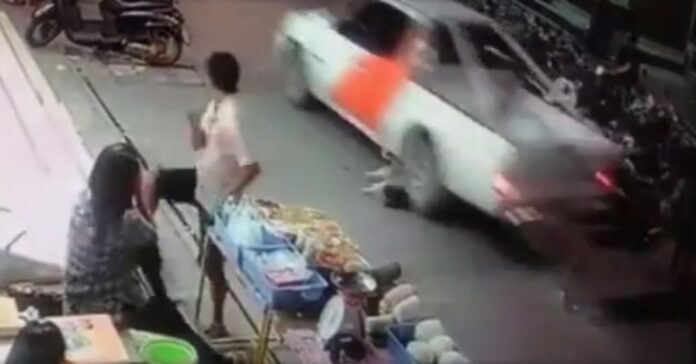 SARABURI — Netizens on Wednesday voiced their anger over a truck driver who ran over a dog with his vehicle at a Saraburi provincial market.
Footage of the incident shows a speeding white pickup truck running over a Siberian Husky, leaving the animal in critical condition. It died on the scene, shortly after. The video was posted online Tuesday night to Queen Together is One, a Facebook page that regularly publishes controversial material.
"Jo-Jae," the 2-year-old female Siberian Husky, belonged to Rinrada Thanoosorn, a fruit merchant in front of a 7-Eleven. She said she wasn't with her dog when a man drove over her pet.
"I was briefly away buying food, then a man drove a truck at high speed and ran over and killed my dog without even hitting the brakes," read a statement on Facebook. "She yelped very loudly. Everyone at the market was startled, and the truck driver drove away…"
People took to social media to condemn the unidentified truck driver.
"Would it be so hard to just honk? The dog was big, you still couldn't see it? It's obvious that you intended to kill it," Chutpong Sangnoi wrote.
"If you'd only slow down your car, wasting time only a minute, it could have spared one life," Tookta Punyisa commented online.
Others, however, believed the dog's owner was also to blame.
"Having a dog without a leash is never a good thing," commented Facebook user Benjatham Junjuajarn. "Dogs don't know whether it's a road, so it's the dog's owner who must take care of it and keep it safe."