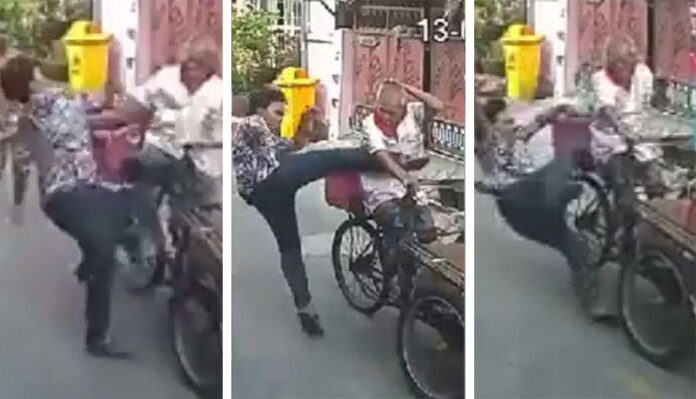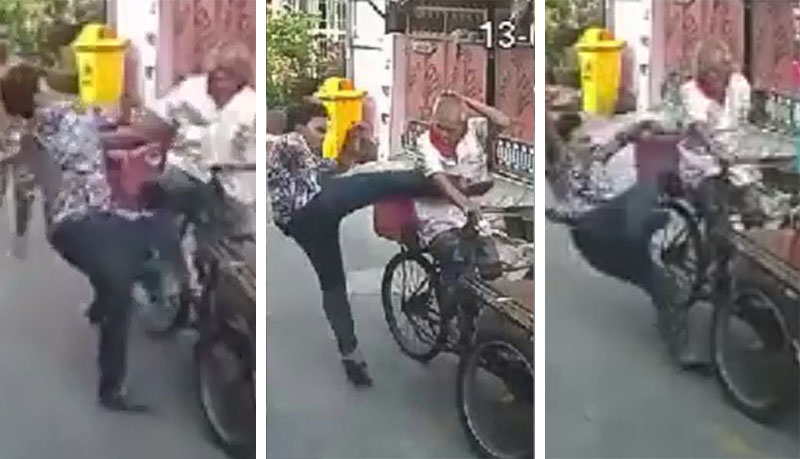 BANGKOK — A man was charged with assault Wednesday night for kicking an 82-year-old garbage picker senseless earlier this week.
Police arrested Narathorn "George" Soattiyung, 21, at about 11pm last night after a video which surfaced of him kicking Juroon Meepan, 82, unconscious the day before went viral.
Col. Kampol Rattanaprateep of Huai Khwang police said Thursday that Narathorn had confessed to attacking Jumpol out of rage.
"I did it because I was mad. He hit my motorbike and kept driving. He didn't stop even when I called after him," Narathorn said. "I fell over but he didn't even ask how I was."
The video was posted to online whistleblower page Queen of Spades at about 10pm last night and by this morning had been watched more than 2.5 million times. Many comments berated Narathorn's behavior and accused him of having been playing on his phone while riding his bike.
The clip shows Juroon cycling his loaded saleng and Narathorn coming in the opposite direction on his scooter. They clip each other, causing Narathorn to go down in Yaek 2 Prachasongkroh in the Din Daeng district. After a few moments, Juroon resumes cycling. Narathorn gets his bike out of the road then approaches Juroon from behind and kicks him off the saleng, striking him several more time before a passerby pulls him away.
As of Thursday, Juroon remained hospitalized in stable condition. He says he can't remember much about what happened. Narathorn apologized to Juroon's daughter and agreed to pay for his medical expenses.
The daughter said that her father did not stop to see Narathorn's condition after the collision because Narathorn had already gotten up. She said she could not forgive Narathorn on her father's behalf.