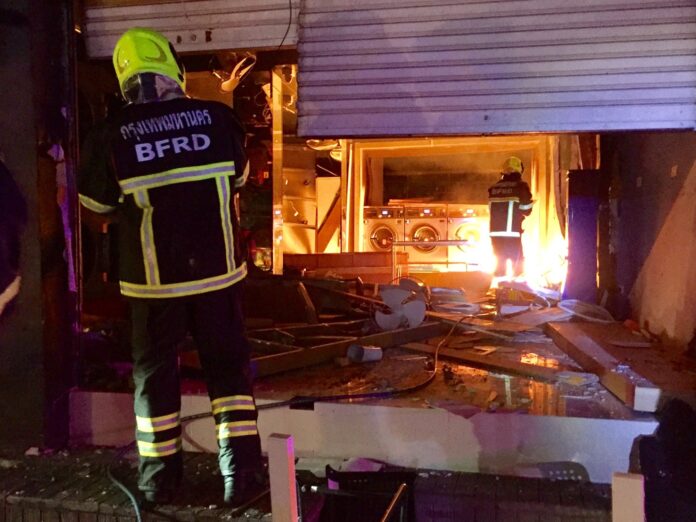 BANGKOK — An explosion at an unlicensed laundromat in central Bangkok early Monday morning injured eight people and damaged a number of nearby buildings.
Police said a preliminary investigation suggested the explosion at the newly opened shop, which occurred at about 2:30am, was caused by a gas leak from one of the machines inside. All victims sustained minor injuries and were taken to hospitals.
Col. Toempao Siripubal said there were no customers inside the shop – located in the Din Daeng district – at the time of the explosion, but flying debris injured people standing nearby. He said the explosion wasn't from a gas tank but was likely ignited by a leaking pipe.
Arit Srithong, Din Daeng district chief, said the shop was operating without a permit. Kawin Nitassanajarukul, the owner, faces six months in prison and a 50,000-baht fine.
The explosion damaged the ground floor's internal structure and affected five buildings nearby. A car, a motorcycle and a few food carts parked in the area were also damaged.
Customers Peerapol Chaiburi and Attapol Kongsook said they were waiting for a machine to become available when they smelled gas, and went to a nearby restaurant asking for the shop's caretaker shortly before it exploded.
Kawin told police his shop had opened only three days ago and was offering a free service promotion, which attracted many customers. He said the washing machines and the LPG dryers used in the shop were imported from China.
Update: This story has been updated with additional information.