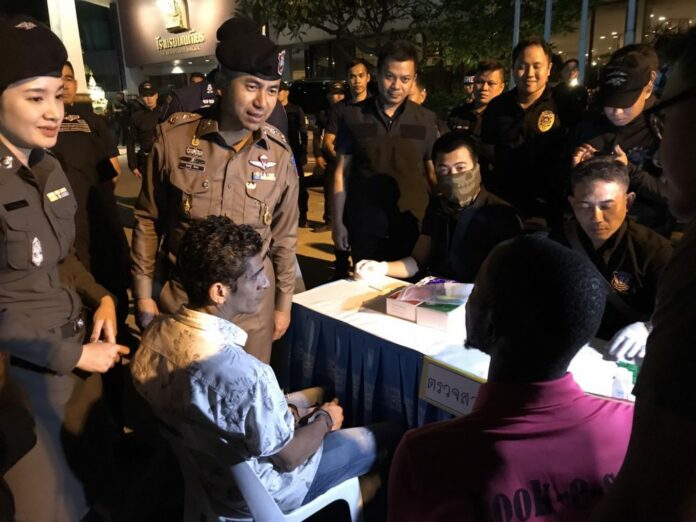 BANGKOK — More than 120 foreigners were arrested early Thursday morning in Bangkok's Bang Rak area.
At about 1:30am, 122 foreigners were taken to the Bang Rak Police Station to hear charges of illegally entering the kingdom, overstaying their visas or possessing drugs.
Among them were nationals from Egypt, Russia, Laos, Myanmar, Cambodia, Vietnam, China, India, Iraq, Nigeria, Afghanistan and the Netherlands. Samples of their DNA will be taken and they will be blacklisted from re-entering for a period of time depending on their infractions, Tourist Police Deputy Commissioner Maj. Gen. Surachet Hakpal said.
Surachet said some of the foreigners worked illegally as language teachers, football players and priests.
The arrest is part of an ongoing effort police have called "X-Ray Outlaw Foreigner" to clamp down on foreign nationals involved in illegal activities. It began in early February at several venues with more than 300 foreigners arrested so far for entering the country illegally, working without a permit and testing positive for drugs.
Last month, 10 nationals from India and a number of African countries were arrested for various offenses at the Nana Hotel in Soi Sukhumvit 4, as part of a raid on "colored people" police called "Operation Black Eagle."
Related stories:
144 Arrested as Part of Operation 'X-Ray Outlaw Foreigner'
75 Foreigners Arrested in Soi Cowboy Crackdown
Africans, Indians Arrested in Latest Raid on 'Black People' (Video)