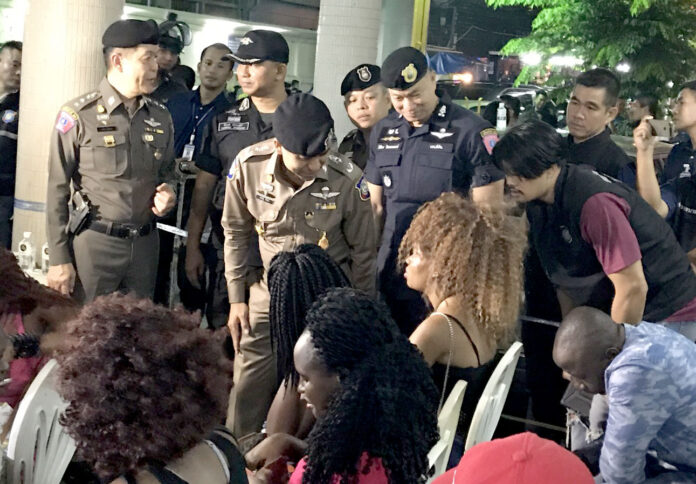 BANGKOK — Police said they arrested 10 "black people" for various offenses early Thursday morning in an operation they described as racially motivated.
Ten people from various African countries and India were paraded in front of reporters at the Nana Hotel in Soi Sukhumvit 4 at about 1am. They were all detained in a raid on dark-skinned foreigners earlier that night as part of an ongoing effort police have dubbed "Operation Black Eagle."
"In this raid on colored people, we found some people who had overstayed their visas," Tourist Police Deputy Commissioner Maj. Gen. Surachet Hakpal said. "We searched restaurants, bars, party spots and eateries around Nana and Soi Cowboy. In so doing, we have secured a safer place for tourists and ensured their trust."
Footage from the raid shows Surachet walking among the arrested asking, "Where you from? [sic]"
Surachet has been responsible for Operation Black Eagle since it began last year on the order of junta leader Prayuth Chan-ocha.
Surachet was behind a number of similar raids last year, including the October arrests of 66 Africans. Surachet said Thursday that the sweep has seen raids on 404 locations and 145 arrests.
During this morning's sweep, a force of regular, immigration and tourist police raided 45 spots in Bangkok.
The 10 arrests this morning included a Nigerian and Ghanaian who had entered the country illegally; two Indians, two Nigerians and two Ugandans who'd overstayed their visas; one Kenyan working without a permit and one Ugandan possessing cocaine.
Related stories:
14 Arrested in More Raids Targeting 'Black People'
52 Arrested in Bangkok Raid Targeting 'Black People'
Raid by Soldiers, Cops Targets 'Black People' in Soi Nana
Six Tourists Charged As Police Raid Nana Friday Night