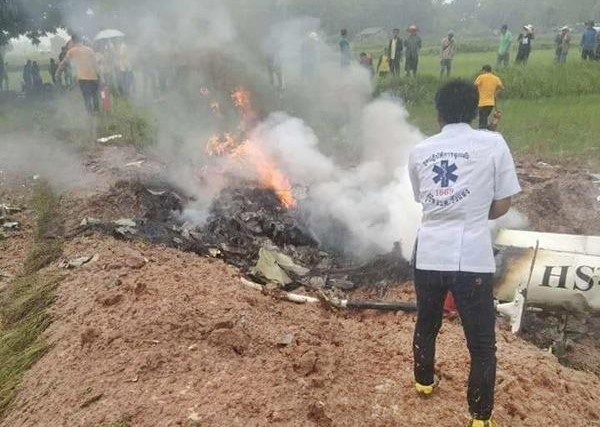 KHON KAEN — Four people died Wednesday when a helicopter carrying a team of reporters crashed and caught fire in Khon Kaen province.
Police said the pilot, copilot and two Channel 7 reporters were found dead at the scene where a private helicopter went down at about 9am in a paddy field in the Chonnabot district, about 70 kilometers from Khon Kaen city, after taking off from Saraburi province. There were no survivors.
The broadcaster confirmed its team was aboard the helicopter on their way to cover flooding in the northeast. They were picking up more team members in Khon Kaen. Investigators initially ruled foul weather a possible cause for the crash.
Prayuth Pootpeung, an eyewitness, said he saw the helicopter flying in circles about 40 meters above the ground, adding that its engine suddenly went quiet before it hit the field and a fire broke out. He said it exploded soon after.
The victims' identities, according to the flight registry, were pilot Seksan Wanna, copilot Col. Sinsamut Sanpeta, Somnau Noisakul and Ronnakij Phetnil.
Police have yet to be able to identify the burned bodies.
Somsak Jangtrakul, the provincial governor, will join the investigation at the scene. Aviation officials are still reviewing the cause of the accident.
Update: This story was updated late Wednesday afternoon with additional details.