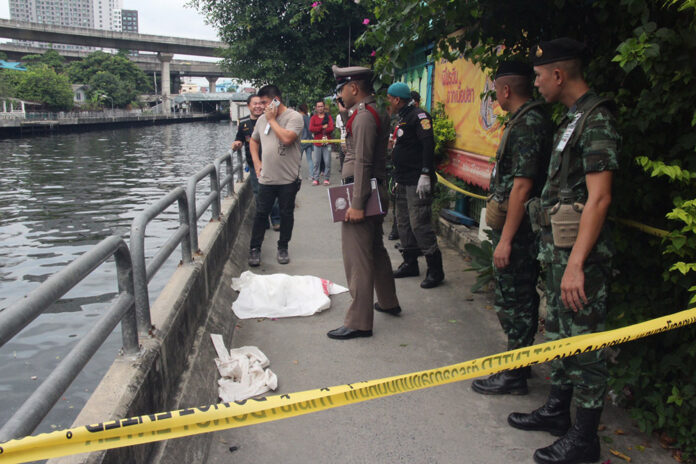 BANGKOK — After piecing together the identity of the man whose severed body parts were found floating in Khlong Saen Saep over the weekend, police said Monday it could have been a freak accident.
What appeared to be the last missing parts of homeless man Winai Jaisaen – a left leg and foot – were found in the canal this morning. Hua Mak police investigators said it could be a case of murder. They also believe Winai, 49, might have fallen into the canal before his body was sliced into pieces by boat propellers.
The investigation was launched after his badly bruised upper torso became the first piece spotted Saturday in the canal where it passes through Bang Kapi district. Passenger boats frequently run through the canal across much of Bangkok.
Police said preliminary forensic analyses suggest he could have died as early as Thursday evening.
Maj. Gen. Theerapong Wongrattapitak, commander of Metropolitan Police Division 4, said Saturday the victim could have been killed elsewhere before being dismembered and dumped in the canal, as cutting wounds were found on the head, chest and shoulders of the first remains recovered. The body's eye sockets were bruised and swollen.
Different portions of a right leg from the hip down were found in the canal Sunday and presumed to be parts of Winai's body. Full autopsy results are expected in about a month's time.
The confirmation of Winai's identity yesterday by fingerprints appeared to change the direction of the investigation. His acquaintances and family said Winai, who used to be a motorcycle taxi, was alcoholic and suffered from epilepsy, leading his family to speculate he might have fallen into the canal himself.
A local rescue foundation said they treated Winai while he was having a seizure Thursday in the nearby Happy Land neighborhood.
Winai's fingerprints were in the police database due to prior arrests for trespassing and drunk driving.
Murder victims are sometimes disposed of in the capital's many waterways. Most famously in recent years, a Spanish national's dismembered remains were discovered scattered through the Chao Phraya River in 2016. Spaniard Artur Segarra was later convicted of homicide and sentenced to death last year.
Related stories:
Death Sentence for Segarra for Dismembering Spaniard
Foreigner Found Dead Downtown in Khlong Saen Saep
Dead Body Found Floating in Bangkok Canal