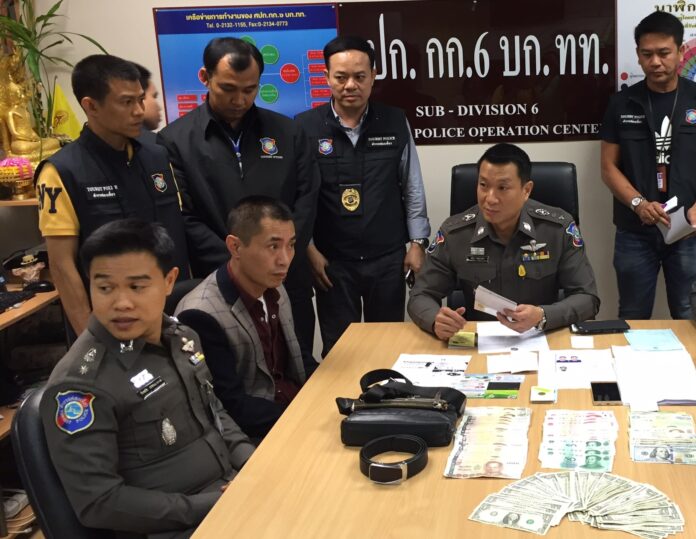 BANGKOK — A Chinese national was arrested Monday for allegedly stealing 460,000 baht from a Thai woman aboard a Bangkok-bound flight, and then trying to bribe the police who caught him.
Police said Sheng Wanjun, 44, is one of a number of professional thieves who disguise themselves as passengers to prey on fellow air travelers, a problem that has become increasingly common. Sheng denied the allegation.
"We believe he has done this many times before," Col. Nitithorn Jintanakanon, deputy commander of Tourist Police, said Tuesday.
According to Nitithorn, Sheng searched through the Thai traveler's bag in the overhead bin during an Emirates flight from Dubai to Bangkok on Monday, and stole a total of 460,000 baht in cash. Nitithorn said the victim reported the loss after the flight landed and identified Sheng as the suspect because he was seen near her bag.
When police stopped and questioned Sheng, he tried to bribe them with 50,000 baht, but officers arrested him and found the cash on him, Nitithorn said.
"The suspect refused to confess," Nitithorn said. "But we have witnesses and footage of the moment he tried to bribe the police officers."
Sheng, a native of Henan province, is now under custody at Suvarnabhumi Airport Police Station. He's been charged with attempted bribery and theft aboard an aircraft. Each charge carries a maximum penalty of five years in jail.
According to the police colonel, theft of passengers by Chinese perpetrators on Bangkok-bound flights is becoming more frequent. In January, another man, also from Henan, was arrested for the same crime aboard a Turkish Airlines flight.
"We have been working with airlines and passing along information," Nitithorn said. "Some airlines even placed some crew members among the passengers to look out for these gangs of criminals."
Related stories:
Vietnamese Man Accused of Lifting Luggage at BKK
Taxi Driver Busted for Stealing Tourists' Bags at BKK Airport