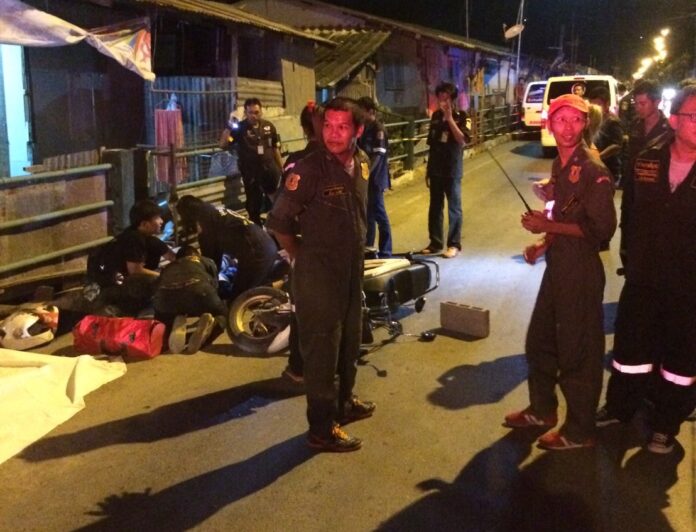 PATHUM THANI — Two students were killed in a gang firefight in Pathum Thani on Sunday night, which also left a shopkeeper injured by the crossfire.
The fight started at about 10pm, when two students from Panja Wittaya College of Technology arrived on a motorcycle in front of a house where a dozen or so students from a rival college were socializing.
The two students, both 17, allegedly opened fire on the residence, and soon the youths inside the house returned fire, killing the two boys. A 58-year-old grocery shopkeeper was also wounded by stray bullets.
Pathum Thani police chief Thavorn Kaosa-ard said police are looking for the surviving students, who fled the scene.
"Right now, police already have their identities," Maj. Gen. Thavorn announced Sunday night. "Investigators are tracking them down to bring them to justice."
The names of all suspected parties were withheld as they were minors.
The killings came less than two months after junta chairman Prayuth Chan-ocha enacted new measures and punishments for those involved in student gang fights to end the chronic culture of deadly college rivalries.
In an announced effort to put an end to fatal tribalism among polytechnic colleges, the military government in June imposed a new law granting authorities the power to detain any students suspected of plotting gang violence. The law also prescribes 6-month jail terms to those found to encourage or aid in such fights.
Related stories:
Learn 3 K-Pop Gestures From Bangkok's Top Cop And Make Love, Not War