BANGKOK — Early on a Sunday morning, 26-year-old Narawut Puangkesorn walked atop the sacred mount that is Bangkok's Wat Saket in meditation. It was after 3am on Aug. 21, and Narawut, who just graduated from university at the top of his class, circled the temple for more than an hour, according to security footage. Police said at one point he spread his arms like a bird.
At 5:30am, a caretaker heard a scream, followed by the ringing of a bell. It wasn't until 6:30am that a monk found Narawut, who was still breathing but insensate with a fractured skull.
Narawut was later pronounced dead at Bangkok Metropolitan Administration General Hospital, and police are investigating his death.
The nun who takes care of the Golden Mountain, Warudee Pongprasat, told police she heard him screaming but was too scared to go look.
Traces of blood were found on a bell on the Golden Mount's third level. There was also blood along on a walkway on the second level.
No security cameras were pointed at the area where he was found by the monk who was cleaning the grounds.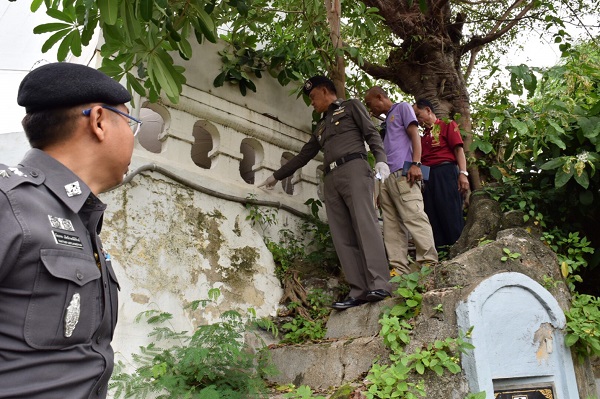 Fingerprints were collected from the bells. Bangkok metro police chief Sanit Mahatavorn said Monday they have yet to determine whether Narawut committed suicide or was murdered.
"I told every officer we must be inquisitive about it first and try to prove it," Sanit said. "I lean both ways. Anyway, people inside the temple including the nun believe no one was there to hurt him."
Aumphai Puangkesorn, Narawut's 54 year-old mother, told police her son had just graduated at the top of his class from Bangkok University and was helping at the family-owned restaurant.
Aumphai said Narawut booked a flight to go to a friend's wedding in Surat Thani earlier that day but later backed out. The mother said he asked her 500 baht before leaving home at 10pm.
Narawut's friend, Rutthorn Piromporbhakdi, agreed with his mother that Narawut liked to make merit.
Rutthorn also showed police Narawut's last Facebook update posted on Aug.14.
"If we know the last day of our life and can ask for anything, what would we wish for?" it read.
In January, Wat Saket's former abbot Phra Phromsuthi was found dead by hanging inside the temple. It was ruled a suicide.
Related stories:
Disgraced Former 'Golden Mount' Abbot Found Hanged at Wat Saket